What we do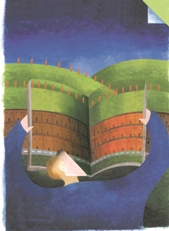 The Letterpress Project will have four main areas of activity:
Our website will offer information, opinion, the latest book-related news and a place for the publication of research. We will update the site on a regular basis and we're always happy to consider submissions from anyone who is interested in books and reading.
See our introductory leaflet here: Books_can_be_dangerous_new_version.pdf
Our package for children and parents is called Wild Things and Gold Rings.
Our 'Wild Things and Gold Rings' workshops for parents, practitioners and children are fully interactive and aim to make the love of books come to life through the use of conversation, quizzes and games. Our sessions include lots of examples of wonderful books for you to look at and enjoy. We can also suggest ways in which you can use these books with children in ways to help them become lifelong readers.
The 'Wild Things and Gold Rings' story reading sessions for parents and young children aim to open up the world of imagination through story reading sessions customised to meet your needs. You will be able to choose from a wide range of books for children and young people of all ages – from the very youngest to teenagers who may not have been read to for a while. You can select by author or by theme – you can be traditional or you can be modern. If you're not sure, we'd be happy to help and advise on what might be best for you.
Wild_things_and_Gold_Rings_Workshops1.pdf
Our package for adults is called Hooked on Books
This package can be customised to meet your needs. If you want a short interactive talk about a particular author or genre, we are happy to discuss what it is that would meet your needs. Perhaps you want a presentation about book shops and bookshop people, or about rare and fabulous books.
Or maybe you'd like a book valuation session - find out just what those old books are worth. Take a look at our book appraisal service:  BOOK_APPRAISALS.pdf
Or perhaps you want something more serious? Find out how books and reading can help with the regeneration of your community or provide a space for the community to share ideas together.
Publishing original writings and research
We're providing space for academics and students from across the country to publish their research, their presentations or their training materials on our site. For those who are interested in books and reading but don't want to have to go through the process of submitting their work to Journals, our website offers a quick way of getting your ideas out into the public domain.
Helping you build your own collection of books
We run book stalls and book events where we sell a range of vintage and second-hand books - many of which are collectible first editions - for sensible and accessible prices. Our books are all carefully selected and all sales go back into the running of the project - so we try hard to keep our prices as low as we can. If you want us to run a stall at your event, we are happy to discuss what you need to make it a success - all you need to do is drop us an email and we will get back to you as soon as we can.