What you'll find on this site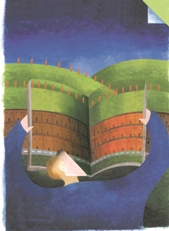 A quick guide to what you'll find on this site
Once you are back on the Home page you will find that there are five picture windows you can go into.
Inspiring Young Readers...
 is where you'll find reviews of recently read books for children and young adults (not always new ones!), an introduction to some of our favourite book illustrators, books we've found that we just love for the way they look and feel and our thoughts and musings on the world of children's literature in general.
Inspiring Older Readers.....
 takes you into the world of fiction and non-fiction aimed mainly at adults. We'll tell you what we've been reading, show you which books have made us go 'wow' , give you a quick look at the bookshops we've been spending our time in and let you in on what we've been thinking about books and book buying.
Book News........
 is our (idiosyncratic) round up of book news published across the media. It's not meant to be comprehensive but we do think it's great to pull together all those bits and pieces that might slip past us.
The Resource Archive..........
 is our more serious endeavour. We want to give space to anyone - students in particular - who would like to write about books and reading but have nowhere to publish their work. We'll be putting stuff on that might be quite academic or resolutely populist - we're not proud! We want this space to be a place where you might find something thought-provoking and interesting. And, as long as it's to do with books,we're also happy to take Powerpoint presentations or training materials that people would like to make available for wider use.
Friends and Networks.....
 speaks for itself. What you'll find here are links to other projects we love - and maybe a few that like us too.