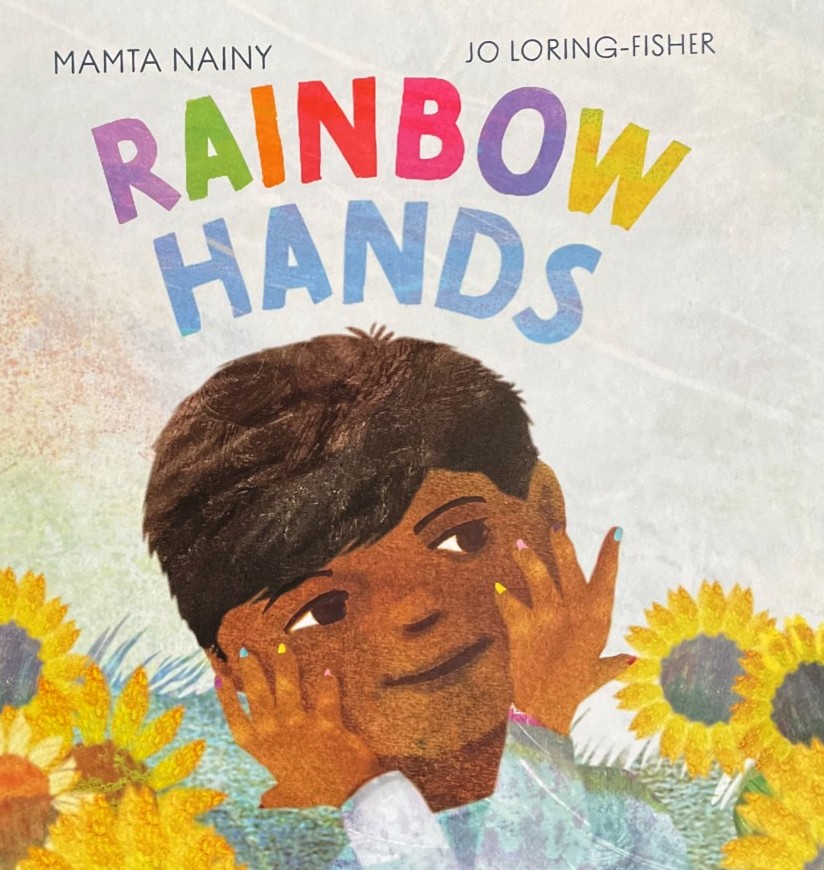 posted on 22 Jun 2022
Rainbow Hands by Mamta Nainy, illustrated by Jo Loring–Fisher
I was delighted to receive another book from the wonderful illustrator, Jo Loring- Fisher as I loved her earlier picture book, Maisie's Scrapbook . In Rainbow Hands, the simple but effective text  by Mamta Nainy is integrated with the double page spreads that are suffused with colour.
The book gently challenges the stereotype that it is only girls who are interested in painting their nails. When a little boy uses his mum's nail polish, he finds colours to express his every mood and feeling. The cover shows him obviously pleased with his rainbow look. The story unfolds using quiet moments such as when see him looking out wistfully at the beautiful countryside:
'Playtime, studytime, naptime,
snacktime, storytime …
The days stretch on and on forever'.
We are shown the warm, intimate, loving relationship between the boy and his mother with his grandfather sitting comfortably in the background reading. As he selects each nail colour carefully, we see him envisaging 'a perfect purple', 'an infinite white', 'a mossy green' and so on. Every page is a treat with plenty of detail to talk about. There is so much opportunity to discuss how the reader might also respond to different colours. I particularly like the joyful picture of the boy facing the sea with his 'swirling blue' painted nails. Another favourite is where we see him at night sitting in a cosy room gazing out at the distant lights from the window:
'Then I paint my nails in the
colour of their shimmer.
A GLOWING ORANGE'.
 He is clearly a sensitive and thoughtful young child who enjoys soaking up the atmosphere around him in an unhurried way. It is one of the quietest picture books I have ever come across, partly because of the soft colours of the illustrations but also because it feels unhurried and calm. There is no evidence of rushing about or needing to meet deadlines – perhaps it is set during the school holidays or maybe during the first lockdown of 2020 where everything slowed right down?
 I also liked the tender depiction of a loving grandpa who appears to understand, better than his dad that he needs to express his feelings in this way. Feelings are not always easy for children to talk about and I think that this simple story would be very helpful in finding ways to begin exploring why some days feel more positive than others. The range of conflicting emotions is also puzzling to experience and this is shown very clearly using facial expressions.  There are plenty of other books designed to do this but often in a more didactic, less child friendly way.
I look forward to sharing this unusual picture book as a way to talk about loving family relationships, feelings, different colours, and challenging gender stereotypes. But most importantly I will share it because it is so aesthetically pleasing. As ever, Lantana Publishing Ltd focus on producing high quality, deliciously illustrated picture books on beautiful paper, always with a strong inclusive message. I always recommend their books to teachers and parents but they are rarely to be seen in mainstream bookshops. I strongly recommend that you spend time browsing their gorgeous website www.lantanapublishing.com and you might be tempted to buy even more! 
Karen Argent
June 2022