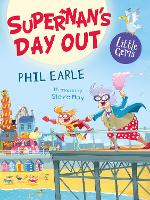 posted on 11 May 2022
Supernan's Day Out by Phil Earle
Phil Earle gives us another fun-packed addition to Barrington Stoke's always wonderful 'Little Gem' series. These colourful, pocket-sized stories for younger readers can be relied on to give even the most reluctant of readers a fast, page-turning story.
Stanley and his dad may well be secret superheroes that have saved the Earth from countless alien invasions, disasters and wars but, it turns out, even they need a rest at some point. And when Stanley's mom puts her foot down, he's forbidden from using his super powers for a full day and to ensure he does as he's told, Stanley is shipped off to spend the day with his nan.
Although Stanley loves his nan he dreads his visits to the old folks home where she lives – everything smells of boiled cabbage and his nan can never remember his name. So he turns up with a sinking heart only to find that the old folks are off on a day trip to the seaside and he's going with them.
But everything isn't quite like it seems and Stanley is in for an eventful trip. What he hadn't expected was that his muddled, old, cabbage-smelling nan is a superhero herself and quite capable of pulling off some earth-saving and life-saving stunts of her own.
By the end of the story Stanley, his nan and the rest of the old folks on the trip have teamed up to thwart another alien invasion and the boy's opinion of his nan has changed completely.
As well as being a rumbustious and funny story, this is a story about the growing relationship between a young boy and his grandparent as well as an affirmation of the value of inter-generational respect.
All these books in the Little Gem series are lavishly illustrated and her the drawings are provided by Steve May – many of them on single pages as well as mixed in with the text – and they bring real extra dimension to the story.
The book is published this month and can be order from your local independent book shop but if you have any problems with that you can order directly from the publisher through their website.
Terry Potter
May 2022