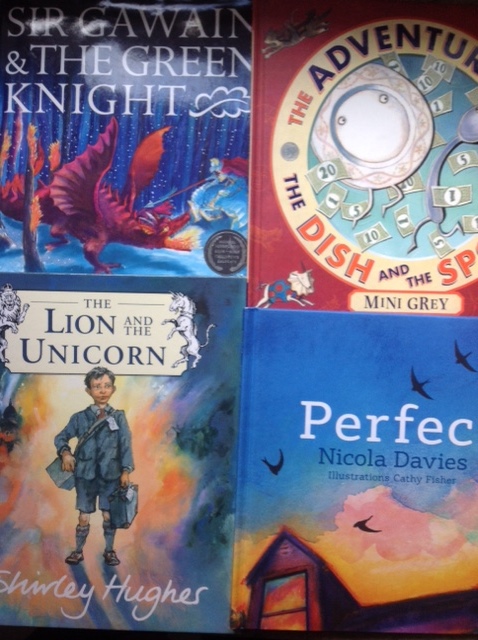 posted on 10 Jan 2022
Unconsidered and Undervalued: children's book illustration
Just recently here at Letterpress we've been taking time to dust and reorganise the extensive illustrated children's book collection. We've tried to build collections of established and emerging authors and illustrators who we believe are great artists; illustrators whose work will endure and delight the people we bequeath the books to when we eventually die and leave them this library to deal with.
Now, at this point it's worth saying that I know there are other people out there who cherish these books in the way we do and give them respect and deep affection; and I also know there are specialist children's bookshops (new and second hand) who fly the flag. But the truth is that it's a comparatively small community. For the vast majority of people these are 'just children's books' and become clutter to be disposed of when they consider their children have outgrown them. That they may have intrinsic, artistic and aesthetic value in their own right rarely seems to occur to them.
Charity shops often toss these books into some inaccessible corner, or most irritating of all, into a round basket that makes them almost impossible to look at and mutilates their edges. Many second hand bookshops have only tiny selections of children's books and usually only older late 19th or early 20th century editions that can be labelled 'old and interesting'. Those that do keep modern illustrated children's books as potentially collectible items of desire tend to focus on a small number of artists – Edward Ardizonne, Quentin Blake or Michael Foreman for example and, more recently, Axel Scheffler's work with Julia Donaldson.
The truth is that there are some very special and talented artists who work in the field of children's book illustration and their books can be seen as remarkable works of art. People pay extravagant amounts of money for high end art publications or for reproductions of famous artworks and yet they pass up the possibility of getting their hands on original first edition copies of superb art in the form of these children's books for less than £20 in most cases – even less if you seek out the copies that have made their way onto the second hand market. You can also get examples of these children's illustrated books signed by the author and artist for very little more than the original cover price.
For those of you looking to build your own collections there are some names we think you should look out for. More established 'traditional' illustrators might include the likes of Brian Wildsmith, Shirley Hughes, Raymond Briggs, Charles Keeping, Emma Chichester-Clarke, David McKee – all artists we come across regularly when we're out hunting the charity and second hand shops.
 Of the more contemporary artists  keep an eye open for Lauren Child, Chris Riddell, Posy Simmonds and Shaun Tan  who we rate highly and think are well worth exploring.
You also have the chance of exploring the way different artists have interpreted your favourite classic stories. Every new generation of book illustrators seems to be drawn to producing their own version of books like Alice in Wonderland, The Wizard of Oz, The Secret Garden or Wind in the Willows  and their very different styles and approaches can add a fascinating extra dimension to the originals.
There are also some fantastic contemporary artists whose work in book illustration is only one aspect of their wider work – Jane Ray, Jackie Morris, Beatrice Alemagna, Brian Selznick  to name just a handful of our favourites.
The examples I've given above barely scratch the surface of what's out there to explore. The world of children's book illustration has never been richer in invention than it currently is and it is a really wonderful time to step in and begin building a collection that will delight you – and others – for years to come.
Terry Potter
January 2022