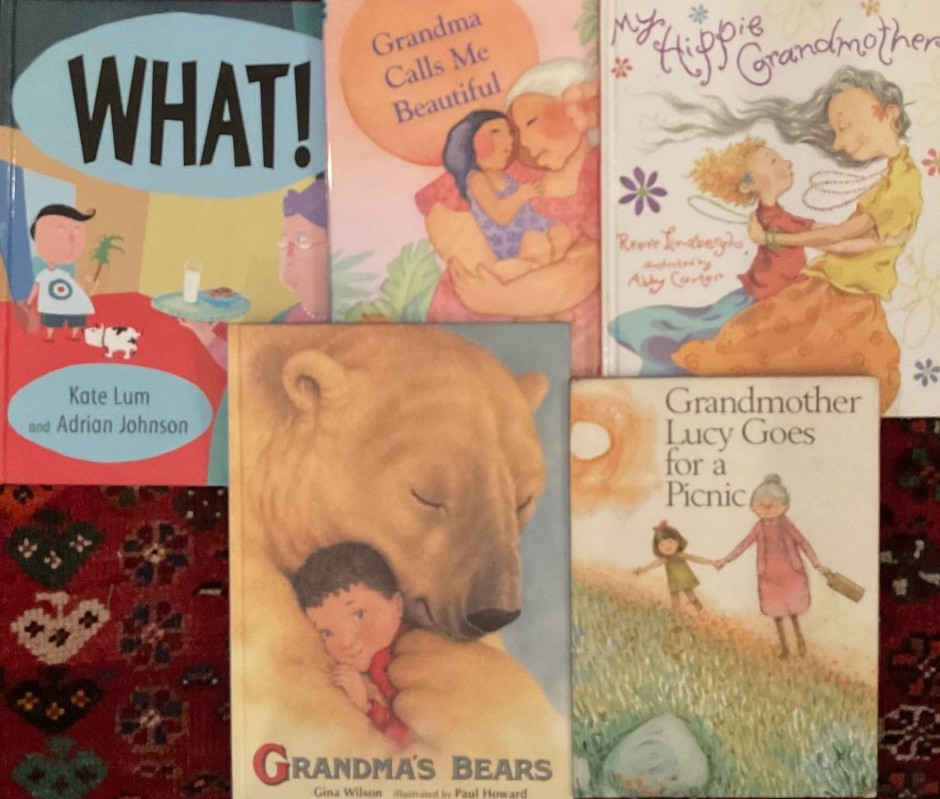 posted on 06 Jan 2022
Grandmothers in picture books
I have been collecting picture books featuring grandmothers for several years but now that I have grandchildren myself, I wonder if I am modelling myself on any ones in particular? More recently, I have picked up stories that show younger, more active women with multiple talents - in other words women who are not being defined by their age in the way that grandmothers are traditionally depicted as passive, rather worn out individuals.
 I have several that show ambitious career women, intrepid world travellers, talented gardeners, keep- fit fanatics and motorcycling enthusiasts but, it has to be said, none of these characteristics chime with me. I thought it would be interesting to look more closely at a few that I can identify with.
Grandma's Bears by Gina Wilson, illustrated by Paul Howard
This Grandma is one with very short grey hair who resembles me physically and her evident imagination is also a quality that I am proud to share. Her young grandson is a little bit anxious about staying the night at her house as he knows that several bears live with her. He is soon reassured to find out that they are all very friendly, despite their huge size. He also finds out, with her help, that they all need him to comfort them in various ways -  so he eventually settles down to sleep very contentedly. Grandma believes in her bears as much as he does – an important dimension in a good relationship with any child.
Grandmother Calls Me Beautiful by Barbara M. Joosse, illustrated by Barbara Lavallee
I like the emphasis on the close relationship between the Grandma and her little granddaughter. This beautifully illustrated book  is set in Hawaii but 'transcends all boundaries of time and place' because the demand for cuddles and familiar stories about how special they are is something that grandchildren never get tired of hearing:
'You are who you are-
Bright as a kukui torch,
Sweet as breadfruit pudding,
Soft as kappa cloth
Forever
And for always,
Beautiful'.
Being someone wise who reassures and indulges, no matter what, is something I aspire to even it might be difficult to achieve in reality. 
My Hippie Grandmother by Reeve Lindbergh, illustrated by Abby Carter
I must admit that I bought this one because it was unusual, rather than because I particularly liked the story or the illustrative style. This Grandma looks nothing like me but shares my passion for social justice which involves regularly taking her granddaughter on anti- war protests. I also like her laid back approach to life, her love of music and her evident belief in what the future might hold and the part that her granddaughter might play in making the world a much better place. Enthusiasm , optimism and encouragement are vital grandmotherly qualities.
What! by Kate Lum, illustrated by Adrian Johnson
The Granny in this funny story with bold illustrations is a lot more rotund than I am, but I hope that I share some of her resourcefulness. When her grandson Patrick comes for a sleepover, it soon becomes clear that she is unprepared because there is no bed, pillow, blanket or teddy bear for him. She is undaunted by all of this and provides them all eventually. Those of you that know me will doubt my ability to chop down trees, construct a bed or do similar practical tasks but I think that they will agree that I could probably fashion a teddy because, like many fictional grandmothers, I am able to knit and sew quite well.
Grandmother Lucy Goes for a Picnic by Joyce Wood, illustrated by Frank Francis
This one is probably my favourite along with the one in the series that precedes this  -   'Grandmother Lucy and her Hats' by the same author and illustrator. This Grandma bears no resemblance to me, being a stereotypically frail ancient woman with a grey bun and specs with a pet cat. However, like me, she loves spending time in the sunshine with her granddaughter and also knows the importance of preparing a good picnic. The gentle but colourful illustrations dominate this story and contribute to the feeling of being unhurried as they meander together through the woods and fields towards the river.  Somehow, the illustrator conveys the sound of bees buzzing, birds singing and the gorgeous heat of a long, lazy summer's day. Despite her age, she proves herself to be excellent at skimming stones and sits on a green throne under a willow tree, resplendent with a daisy chain crown and bracelets made by her granddaughter. A welcome touch of reality amidst the idyllic atmosphere is that she prefers to sit in the shade and gets rather tired when climbing a hill!
So it seems that I share some qualities with these picture book grandmothers. Looking through my collection, I realise that what I do with my three grandchildren is trying to give them time and space to talk, to enter into their imaginative worlds (no matter how strange) and to provide safe but interesting adventures, with plenty of treats along the way. Perhaps I need to write some stories about it all.  
Karen Argent
January 2022