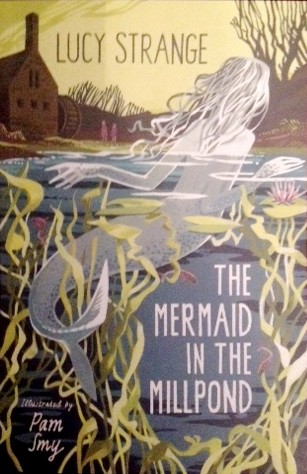 posted on 27 Dec 2021
The Mermaid in the Millpond by Lucy Strange
History and fantasy come together in Lucy Strange's debut novel for Barrington Stoke and the result is a tense and thrilling drama about freedom of the mind, body and spirit.
In 19th century London, teenager, Bess and her mother work in the theatres of Covent Garden and are happy, compassionate people who lend a helping hand to those in need. But it's this very kindness that leads to the tragic death of Bess' mother when she contracts tuberculosis from a young boy they take in from the street.
This turns Bess' life upside down and she's taken into a workhouse before being transferred as an apprentice to a rural cotton mill. But this isn't apprenticeship as we understand it today, this is much more like slavery. The only way she can imagine surviving this terrible situation is to turn her emotions inward and resolve to be totally selfish and unemotional.
As well as having to deal with the cruel regime of the mill, Bess has to try and make sense of the rumours that she hears about the hideous mermaid-like creature that lives in the adjacent millpond who will pounce on anyone who enters the water and attack them with her needle-like teeth.
But Bess slowly learns she does need the help and support of others if she is to survive and she slowly, reluctantly, grows close to another slip of a girl called Dot. When Bess makes her first attempt at escape and is punished she finds a similar fate has befallen Dot and so together they plan to escape together. Bess has also discovered that the story of the mermaid in the millpond isn't just a myth but something much more important. The mermaid of the millpond does actually exist but she is – just like Bess and Dot – trapped in her pond and clearly wants to find a way to swim free again.
Together Bess and Dot plan how they can make a successful bid for freedom and, at the same time, liberate the mermaid.
But to find out what their plan is and whether they are successful you'll have to buy your own copy of this excellent book and find out for yourself – it's certainly worth the effort.
The book has the added attraction of black and white illustrations by Pam Smy who provides half page drawings throughout the story to help illuminate the text. Smy is a seasoned illustrator of children's books with plenty of award nominations to her name and from her work in this story it's easy to see why.
The book is available in the Barrington Stoke 'super readable' series from 6th January 2022 and you should be able to order a copy from your local independent bookstore or go directly to the publishers website to get one.
Terry Potter
December 2021