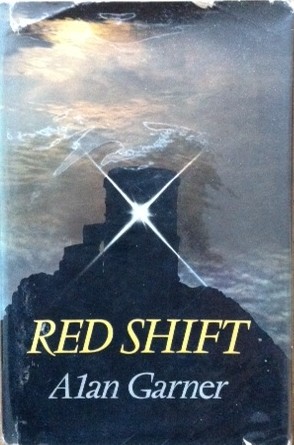 posted on 09 Dec 2021
Red Shift by Alan Garner
Rereading Red Shift by the wonderful Alan Garner is a useful reminder that fiction written primarily with a teenage readership in mind is actually allowed to be difficult and uncompromising – and may require more than one reading to really appreciate what's going on. I have a strong suspicion many current commissioning editors might find this book way too complex for the 'young adult' market of today – an opinion I've discovered I share with the author Celia Rees who says of it:
"I'm wondering if Red Shift would even be published now, for Young Adults anyway, or would it be seen as too 'difficult', breaking just too many rules?"
In just 150 pages or so, Garner packs in a dense dialogue-driven narrative that consists of three separate strands that link together across time, space and place. Each story is anchored by location – the small village of Barthomley and the ancient site of Mow Cop, which Garner describes as 'the netherstone of the world' where 'the sky mill turns...to grind stars'. The characters at the centre of each storyline are also the custodians of a polished stone axe that passes from generation to generation and comes to represent the magic token that binds a visionary, emotionally unstable and potentially violent young man to a young woman dedicated to saving him.
It's Garner's habit to make use of older British folk tales that he uses as inspiration and to provide a central motif to his books and in the case of Red Shift that story is the tale of Tam Lin. Emma Donaghue writing in The Independent in 2011, who nominates Red Shift as her Book of a Lifetime, puts it this way:
"In all three stories, strong women, guardians of the sacred (including sex), try to hold onto – and hold together – broken, "berserk" men. This motif is said to be inspired by Tam Lin, rescued from the fairies by his true love."
The three strands of time inform each other – importantly it's not just that the past that ripples through to the present but the present also influences the past. This common link between the future and the past is symbolised by the night sky – always subtly changing but always recognisably the same. Looking at the night sky is in fact an act of time travel because the light we see comes from cosmic events long in our past.
 Each of the story strand's timeline is laced with disturbing violence. The modern day story of star-crossed lovers Tom and Jan is a tale of how social class twists and distorts relationships and breeds a mistrust and a simmering sense of two worlds that can't merge without damaging collisions. We are also transported – always without warning – to a group of deserters from the Roman occupation army or into the middle of the English Civil War. In each of these historical settings a sensitive, possibly visionary, young man finds himself at the centre of extreme violence and must have the help of a young woman who will shield him from the storm – hence the use of Tam Lin as the source. Celia Rees explains the way this works:
"The story of the earthly knight trapped in elfin form by the Fairy Queen then snatched from her clutches by plucky young Janet who pulls him from his horse, holds on to him through some fierce shape shifting and finally cloaks his naked body in her green mantle thus saving her love and the father of her child, informs and infuses the novel in a deep kind of way, barely discernable on the surface but THERE."
As I said at the beginning of this review, this is not an easy book but it is a powder-keg of emotion and ideas that asks a lot of the reader but rewards you with a lot.
Paperback editions of the book are easily and quite cheaply available but you'll need to dig quite deep for a hardback first edition.
Terry Potter
December 2021