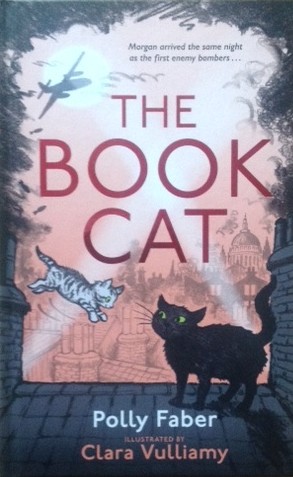 posted on 06 Dec 2021
The Book Cat by Polly Faber, illustrated by Clara Vulliamy
Polly Faber is the grand-daughter of one of the founders of the famous publishing company, Faber & Faber and at the beginning of this charming little book/cat-centred tale she explains that the story was inspired by Faber's own cat, Morgan, who puts in an appearance at the end of T.S. Eliot's Old Possum's Book of Practical Cats:
"The original poems in Old Possum's Book of Practical Cats were about imaginary cats but one poem, added a little later is different from the others. It's based on a real cat; a stray called Morgan who turned up at Faber and Faber during the war and never left. Morgan was a completely black cat, a rather large cat, and he answered the door at Fabers for many years."
Presented almost as Morgan's fictional memoirs, Polly Faber imagines a story based on the cat's life when he moves off the streets of London and into the publishers office's as the Second World War begins and he settles in to making himself an indispensible fixture in the offices.
In this little fantasy Morgan not only becomes the arbiter of success or failure for would-be writers visiting Fabers but also becomes something of a cat-community legend, always prepared to help out any feline that is having a tough time on the streets and even opening a clandestine cat-based 'night-club' to keep them entertained.
When the infamous doodle-bugs start to descend on London, Morgan decides it's time to do something to find safer places for the, sometimes orphaned, kittens that have nowhere to go. A cunning plan sees them smuggled into the pockets and bags of visiting authors so that they can find new homes – but crucially so that they can play their part in making the authors even better writers.
The book would be a perfect entry point for young readers making the transition from predominantly picture books to more wordy reading matter. The story is engaging and the vocabulary perfectly pitched.
The book has a slightly larger format than the average and this certainly helps bring out the relationship between the text and the excellent illustrations, which have been provided by Clara Vulliamy. Vulliamy is, of course, a well-experienced writer and illustrator who I first encountered several years ago through a regular cartoon in The Guardian. Her illustrations here are a mix of black and white and colour and some of them are full page – they bring to life the world of the cats in a gentle and reassuring way that helps keep the mood of the book upbeat.
This is definitely a book that can be read by a child on their own or with a parent  - and more than once. I love all books about books so it's welcome on our shelves until we find the right young person to read it with.
Terry Potter
November 2021