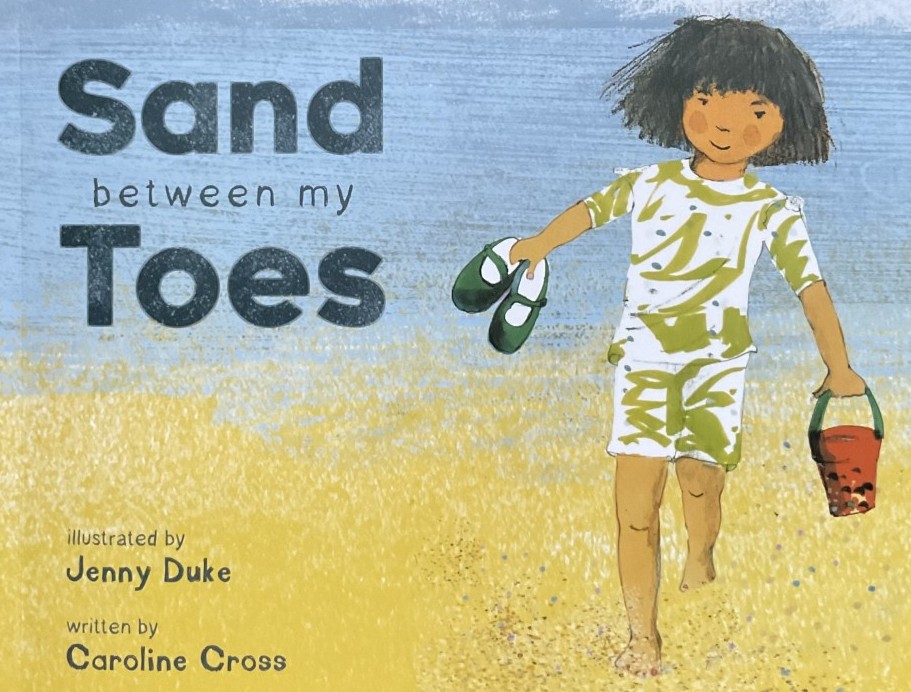 posted on 02 Dec 2021
Sand Between My Toes by Caroline Cross, illustrated by Jenny Duke
I'm a big fan of the seaside and so I am always keen to see more picture books about the subject. This one is special because the dreamy, muted colour palette of the illustrations somehow manages to capture the bigness of the sea throughout the simple story.
I like the opening double page spread which shows the little girl walking a little behind the rest of her family as they arrive on the cliff above the beach. That sense of awe on first sight of the ocean twinkling below is very familiar:
'Water glistens,
I listen'.
I can imagine asking younger readers to do this and look forward to hearing about what they can 'hear' before turning the page. Next we see that parents and the three children have given into the temptation of taking off their shoes to enjoy the experience of feeling the sand between their toes.
We experience more marvels through her eyes as they walk along trying to find a place to sit – she is leading the group now. Once they have found their spot near the shoreline, she takes in the scene:
'In the sand
I stand'.
Now she is ready to join in with the fun - splashing in the waves, looking intently into rockpools and relishing a drippy ice cream cone (with a dog keenly following the trail) in the sunshine. All the people in the background seem to be having a great time – there is so much to look at.
But, as so often happens in this country, the good weather at the start of the day is unreliable and  dark clouds are looming:
'Shelter rips,
Bucket tips'.
Quickly dried off with inevitably damp towels, the family has to gather their stuff together quickly and, with everybody else, run from the beach in the driving rain. For me, one of the nicest memories about a British seaside holiday is 'making the best of things' despite bad weather, which often involves eating chips under shelter as the rain and wind blow just beyond. Once the weather settles down again, the family wend their way happily back home along the beach with a beautiful complicated evening sky to look at.
This is a picture book with a very calm and happy atmosphere. The sparse poetic text works perfectly with the pictures to introduce or remind readers of a memorable day at the seaside. This is another treat from Childs Play (International) Publishers which will be very much enjoyed by young readers and nostalgic adults.      
Karen Argent
December 2021