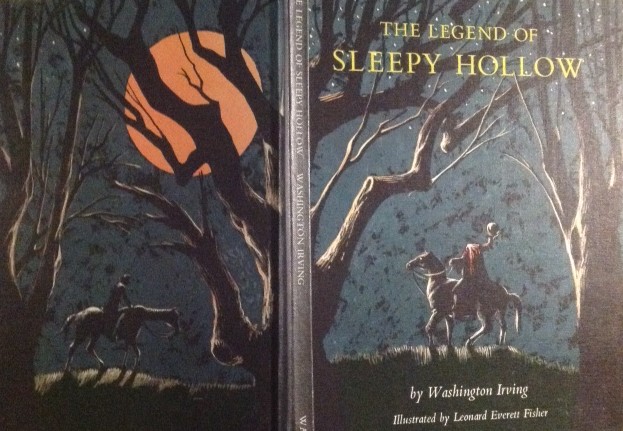 posted on 28 Nov 2021
The Legend of Sleepy Hollow by Washington Irving, illustrated by Leonard Everett Fisher
You may be familiar with Washington Irving's humorous, Gothic short story set in the late 18th century in Tarry Town, near New York, where the rather obsequious schoolmaster from Connecticut, Ichabod Crane woos 18-year-old Katrina Van Tassel, the daughter and sole child of wealthy farmer Baltus Van Tassel. However, the lanky and often ill-coordinated, Crane has a rival for the young girl's affections – the much more macho,  Abraham "Brom Bones" Van Brunt.
Now it so happens that the people of the town are very fond of legends and spooky stories and Crane himself is fascinated by "local tales, haunted spots, and twilight superstitions." The speciality here is the ghost of the Headless Horseman, said to be the spirit of a decapitated trooper from the days of the Revolution who puts in a regular appearance.
When Bram Bones fails to entice Crane into a fist fight to settle their rivalry, he resorts to subterfuge. As Crane is riding home the Headless Horseman puts in an appearance designed to scare him so much he will leave the area. When Crane and the Horseman meet, the spook seems to throw his head at Crane, who is indeed so freaked-out that he rides off never to be seen again.
While Irving never says it explicitly, it's clear that the spectral visitation was arranged by Bram and a cunningly designed pumpkin.
But the real joy of this 1966 US publication isn't in Washington Irving's prose or the ingenuity of his story – there have, after all, been plenty of editions of this and more than one or two movies. What really makes this edition special are the fabulous black and white illustrations from Leonard Everett Fisher.
Fisher, born in 1924, began illustrating (and writing) children's books in 1955 and has racked-up over 250 publications that brought him a nomination for the  2015 NSK Neustadt Prize for Children's Literature to set alongside a whole host of other awards over his long career.
A retrospective review of his art that was held in his home town of Westport in 2015 had this to say of their famous artist:
"Fisher, now age 92, comes from a family of four generations that shared an artistic flair, but is the first of his family to have become a professional "picture maker."  He attributes his love for storytelling to his mother, who read him encyclopedia excerpts in elementary school.  His parents were supportive of his art and encouraged him to pursue painting and design; they gave him a "studio" in the front hall closet of their Bronx apartment after he dipped his father's paintbrush in India ink and destroyed his father's watercolor painting.
Although Fisher has been highly recognized for his artistic accomplishments, it is only recently that he truly considered himself an artist. "I always viewed myself as a craftsman working on commissions, putting my own stamp on them," he stated.  He cites that painting is his passion, and has at times spent sixteen hours a day on his craft."
Fisher's decision to work in black and white is especially effective and the very black blacks he uses, possibly pen and ink or woodcut prints, give an almost silhouette theatre feel to them. It's easy to see how young teenage readers would be impressed by these dramatic illustrations that so perfectly reflect the tongue-in-cheek Gothic of Irving's story.
I think that this edition, difficult to find in the UK, is out of print and you are likely to struggle to get hold of a copy. The best bet is to keep your eyes open for a copy in second hand or charity shops and, if you see one, grab it!
Terry Potter
November 2021