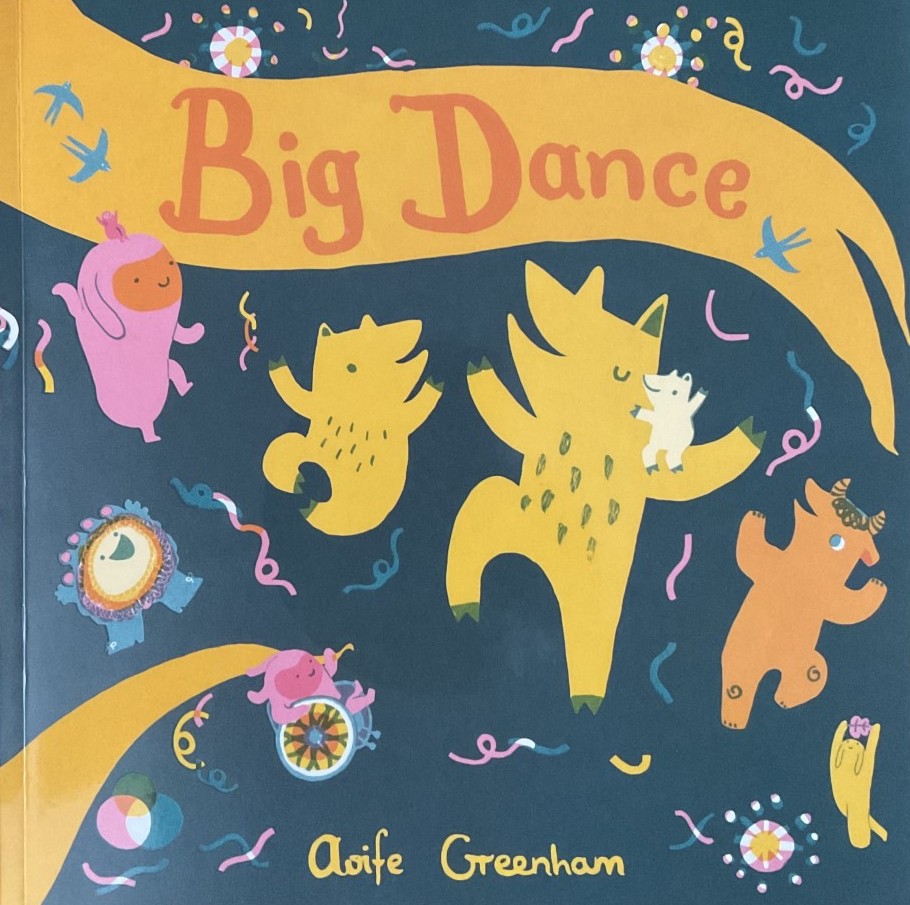 posted on 15 Nov 2021
Big Dance by Aoife Greenham
Sometimes it is hard for children to recognise and value their own special qualities – especially when they become part of a bigger social group. Even as adults, one's own family might over–praise rather moderate skills like singing when people in the big bad world would be less generous! 
Poppa and Pippa are bear-like creatures who are shown on the colourful front cover dancing alongside others with great enthusiasm. But when the story begins, Pippa looks rather doubtful when promised that:
 'Everyone has a dance inside them'. 
The next double page spread shows us how she learns to see the truth in the statement. Using a gorgeously limited colour palette of pinks, blues and yellows, we see creatures playing instruments, stretching, hopping and twirling with happy abandon outside. At the right hand edge of the second page there is a high rise building with more tiny creatures silhouetted in the windows - all cavorting in many different creative ways. There is so much detail to look at here that I spent a long time relishing the variety. There is so much scope for discussion and careful looking here.  Next we focus on some of the characters made easier by a change of the design to two blocks of colour on each page.
Despite all of these splendid examples, Pippa remains unconvinced that she will be able to come up with something for the Big Dance. I loved Poppa's next attempt to inspire his child as he leaps, wiggles and stretches across two pages – I can imagine children trying to copy his impressive moves!  Pippa agrees that it certainly looks like fun, but still tries to define herself by what others can do. 
Another interesting change to the page design shows us how she tentatively experiments with some moves, not all successful. I really felt for her diminishing self-esteem as she despairs of ever being able to join in:
'THE BIG DANCE IS JUST NONSENSE!'
Her friends rally round, as good friends always will, and explain that she must join in with the fun:
"Because it's all of us.
It's where we are all
 the same and all different.
Where we can all be ourselves together.
It's where we all belong".
And you will be delighted to learn that, once the music starts, Pippa finds her moves (plenty more opportunities to copy and join in here). The final message is about being, strong, confident and to revel in the moment.
I strongly recommend this beautifully illustrated picture book with a strong inclusive theme. 
Karen Argent
November 2021