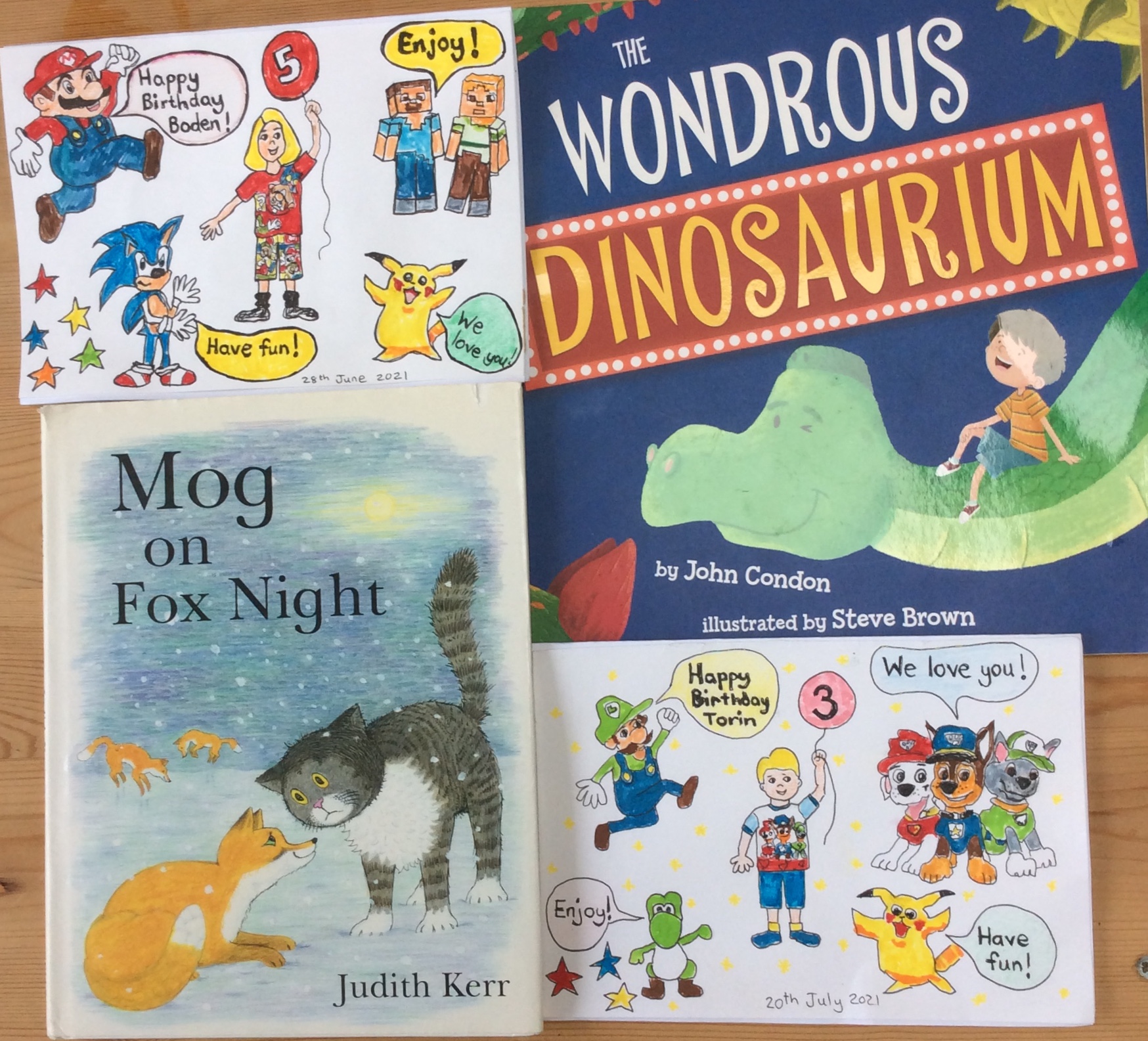 posted on 27 Sep 2021
Reading at the table
Warning – this piece may upset people who believe that mealtimes are just for eating and talking together about everyone's day at work/ school/ nursery happily, as depicted in many TV adverts. The convention seems to be that 'good' parenting involves sharing a wholesome meal together around a big table in a spacious, homely kitchen, but reality is very different for many families. My own memories of mealtimes with family include lots of moodiness and quite a bit of arguing, particularly when children don't want to eat what is presented in front of them.
My young grandsons aged three and five are not that bothered about sitting down to eat as it interrupts their exciting active lives. So when I am looking after them, I decided to make mealtimes into story times – with excellent results. There is now a good selection of picture books on the shelf by the table and I position myself opposite so that they can easily see the pictures and join in with me while they eat. We usually get through three or four each time I do it. Here are a couple of regular favourites:
Mog on Fox Night by Judith Kerr
A favourite character like Mog never disappoints because she can be guaranteed to have adventures. Nothing too dangerous or troubling happens because the stories are set in her cosy home living with the Thomas family. The children are always on her side no matter what problems arise, as is the always harassed looking mother. Dad is often more irritable and in this one he is exasperated when fussy Mog refuses to eat her usual supper of fish or catfood. He declares that she is not to be given her preferred hard- boiled egg for breakfast until she has cleaned both dishes. Suitably chastened and feeling very hard done by, Mog goes into the snowy garden to sulk. There she is horrified to see a family of foxes enjoying eating various pieces of rubbish from the binbags: 'Are they mad'?
The plot thickens when they dare to use her cat flap to go into the kitchen, eat her food and cause complete havoc. Appalled at their unruly behaviour, Mog goes upstairs to sleep in the children's bedroom. In the morning they come downstairs to find the chaos, hastily chase the foxes out and tidy everything up. When dad eventually comes into the kitchen, he is pleased to see that Mog seems to have done as she was told and so is rewarded with her egg. The boys always ask me why dad is so cross, and then immediately offer their ideas about him being too tired from work or that he hasn't got money to buy lots of eggs. They enjoy thinking about what would happen if a family of foxes came into their kitchen and whether they would tidy up the mess, or just wait for mom and dad to do it because
' They like foxes and they wouldn't be cross'.          
Most of all, they love being part of the trick being played on the parents who genuinely believe that Mog has eaten her food – sharing this 'secret' with me is always a treat!  
The Wondrous Dinosaurium by John Condon, illustrated by Steve Brown
I have reviewed and used this one several times with groups of young children in school and it always gets good responses. After all, being able to buy any dinosaur as a household pet is a thrilling prospect. Young Danny meets the intriguing Mr Ree who owns The Wondrous Dinosaurium and then proceeds to try out a few to see if they fit his requirements. The boys enjoy reminding me about their very different peculiarities and then suggest how they would deal with them. Every time we read it together, they tell me that they wouldn't mind if a Diplodocus ate all the trees, but that they aren't so keen on the T Rex that drools everywhere because it's pretty disgusting. They both love the huge Pterodactyl that soars across the sky with Danny clinging on for dear life. They like pointing out all the things that he can see from the sky: 'I wouldn't be scared'! Eventually he realises that he needs a much smaller pet and settles for one that looks rather like a tortoise – except that it isn't.  We always finish with a bit of a chat about whether their house would be big enough for a dinosaur pet and if their cat would be frightened of it.
Reading stories at the table requires time so I always make sure that I have at least half an hour to make it work. I frequently have to delay turning the page because they can be so entranced that they forget to eat, but I just ask them to eat a piece of delicious broccoli/ chicken I before I do, and they never complain. I don't know how long this phase of enjoying stories at the table with me will last but I strongly recommend it as a way of making mealtimes very pleasurable for everyone.       
Karen Argent
September 2021