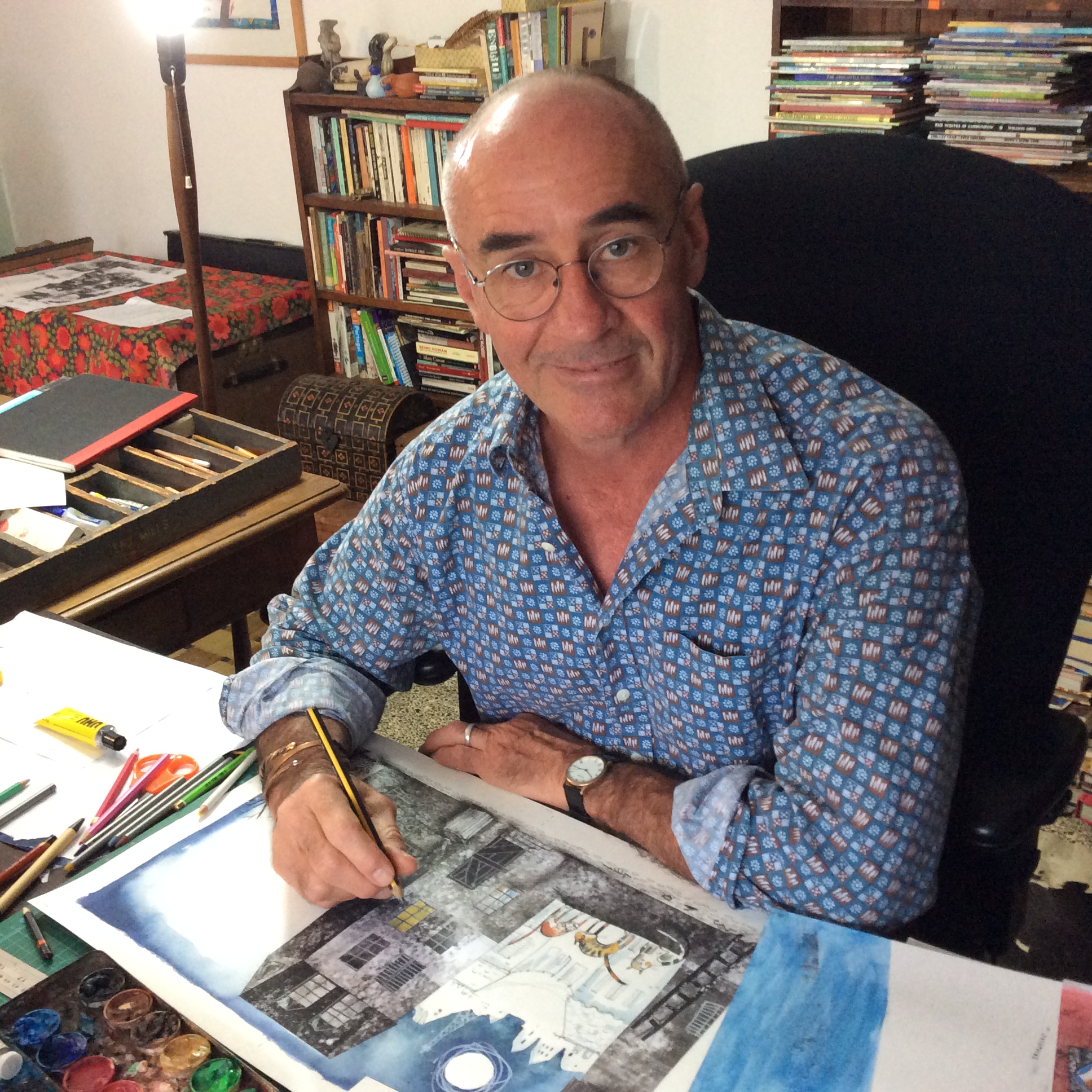 posted on 26 May 2021
An Interview with Piet Grobler
The Letterpress Project has asked authors and illustrators to think about what has inspired them as artists, what their favourite books are and how they relate to their audience - we've also asked them if they themselves are book collectors.
We are delighted to present an exclusive interview with children's book illustrator, Piet Grobler. Piet  is a South African- born(1959) picture book illustrator and author currently living in Colares, Portugal. He grew up on a farm in South Africa and moved to the UK in 2009, where he lived in Great Malvern and acted as Course leader in Illustration at the University of Worcester till 2017.
His academic career includes teaching Illustration in South Africa at the Cape Peninsula University of Technology in Cape Town and Stellenbosch University.
Piet's own studies include a Masters Degree in Illustration, a BD in Theology, an Honours degree in Journalism, a Graphic Design diploma and a PGCert in Higher Education. Research interests vary from Post Modernism to Translation theory, Inclusivity and Multiculturalism in Picture Books. He is still acting as Visiting Professor in Illustration at the University of Worcester.
Piet has illustrated about 85 picture books, many of which were translated in languages like Xhosa, Swedish, Japanese, Chinese, Korean, German, Dutch, Spanish and Portuguese, amongst others. Four of his picture books have been written by himself,  but he enjoys illustrating for others as that gives the opportunity of working with a wider variety of different texts. The African landscape and culture is often visible in his colouring and also in the subject matter of his picture books. He therefore often illustrates books with African folk tales, eg Who is King? and Aesop's Fables both by Beverly Naidoo and The Magic Bojabi Tree by Dianne Hofmeyr and Makwelane and the Crocodile by Maria Hendricks. Other recent collaborations include Coyote's Soundbite by John Agard; The Playgrounds of Babel by JonArno Lawson, Colours! Colores! By Jorge Lujan and several books with SA poet Philip de Vos. .
Piet has been the recipient of several awards amongst which a Golden Apple as well as a Plaque at the Biennale for Illustration in Bratislava, Two Silver medals in the Noma Concours (Japan), Octogone de Chene (France), the Peter Pan Prize (Sweden), Children's Africana Book Award (USA) and all the major South African picture Book awards. He acted as jury member in the BIB Bratislava (Slovakia), the Noma Concours (Japan) and the Lemniscaat Illustration award (Netherlands) and the Chen Bochui Literary Awards (China) and delivered presentations at the IBBY conferences in Cape Town, Mexico City and Santiaogo de Compostela.
Together with his colleague, Tobias Hickey, Piet founded the International Centre for the Picture Book in Society (ICPBS). The aim with the centre, which is situated in the Hive (the combined library for Worcester city and Worcester University), is to promote inclusivity in picture books and to introduce British students and illustrators to the variety that the international picture book environment offers. Several international illustration exhibitions have been hosted by the ICPBS, for example Migrations, a collection of 350 internationally illustrated postcards on the migrant crisis and Sea Change, an international mail art exhibition on the impact of climate change and other human interventions on the oceans.
Read what he had to tell us in her interview by clicking on the link below: