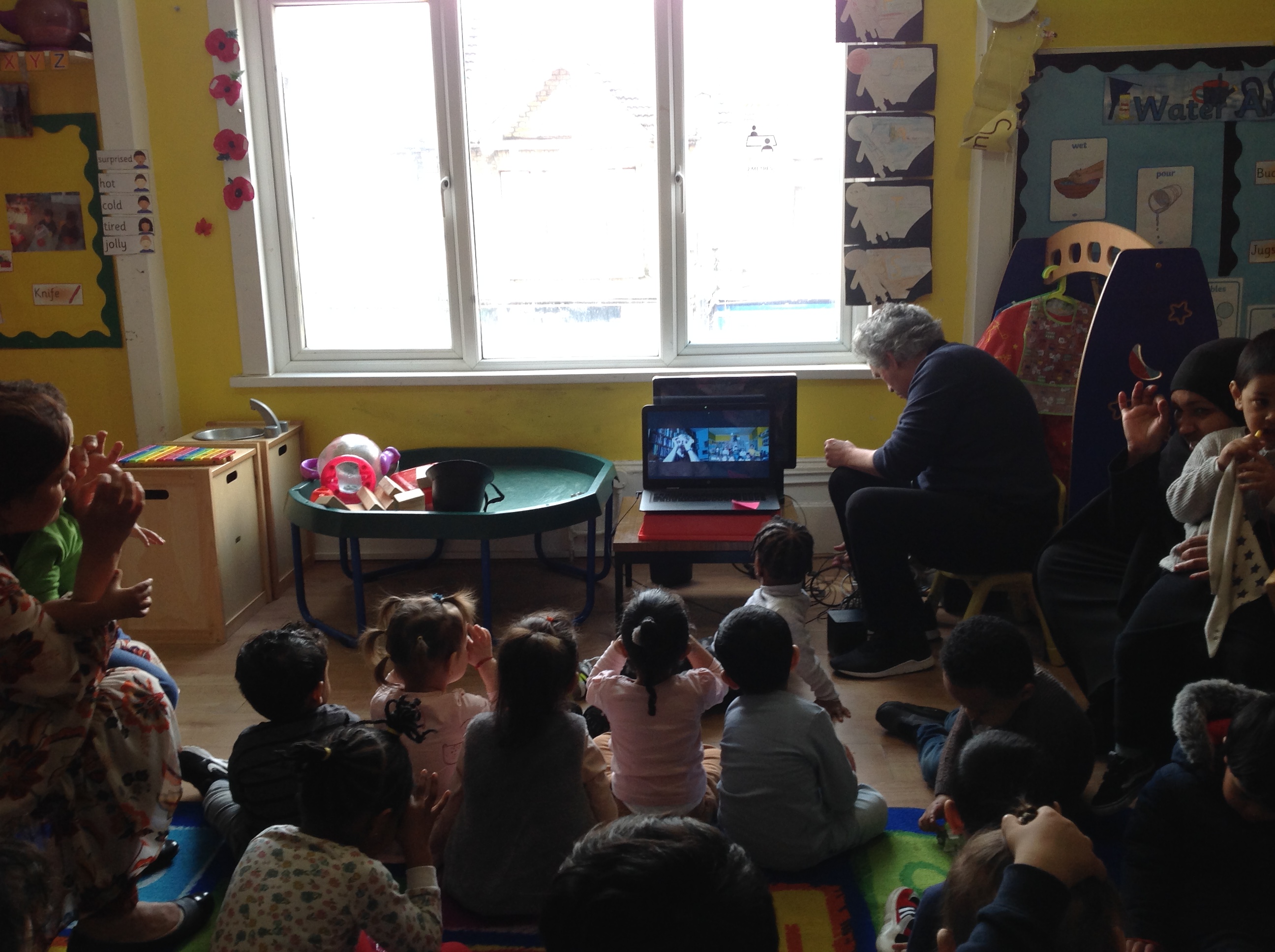 posted on 23 May 2021
Stories on screens
During the past peculiar year I have tried to kid myself that reading stories via a screen can be very satisfying. But it is a poor substitute for the real face to face experience for all kinds of reasons.
Reading stories to grandchildren
 Even my three grandchildren, who know me very well, have proved to have limited patience and concentration. It was a bit of a novelty for all concerned at first when I offered to share a screen story with them at bedtime because, like everyone else, I was determined to keep up a connection during the first lockdown. But when a story comes without a cuddle and opportunities to lean in close to pick out details in a picture, and to turn back the pages, it starts to feel like a bit of a chore. Five year old Naomi seemed to like it, although I think it emphasised how much we were missing one another.  I had the distinct feeling that my two younger grandsons were being strongly 'encouraged' to participate as they frequently wriggled away to stand on their heads/ fetch toys to show me etc!  After a few of these rather frustrating experiences I decide to try prerecording stories and send via Whatsapp. This seemed to be more successful as they could pick and choose when and where to listen, and even have repeat readings if required. This also apparently proved to be a good way to get the boys to sit still and eat their breakfast for a while.   
Reading stories live on The Letterpress Project facebook page
Many publishers have given permission for books to be read aloud by authors, teachers and celebrities whilst schools were locked down for most children. There were so many online stories freely available at one point that I wondered if I could add anything useful to the mix.  I eventually decided to ask two of my favourite, less well known publishers whether they would be happy for me to do this on a weekly basis. I thought that it might be helpful in exposing a wider audience to their wonderful selection, many of which have been reviewed on The Letterpress Project website. Originally I intended to do at least two per week but found that it was much more demanding than I had anticipated. I love reading stories aloud but the technology took some getting used to. I had to experiment with which room in my house had the most reliable internet connection and my early attempts suffered from poor lighting and angles, but I gradually got more adept. I settled on reading one per week, alternating between ones from Maverick Publishing and Child's Play (International) Publishing and these seemed to get good responses, although the level of engagement dropped off after a while. I also had to remember to delete them after a short period as this was a condition of the agreement. I will continue doing this for a bit longer but still find it challenging reading to an unseen audience – am I giving them what they really want? My fifty year old brother and the sixty three year old husband of a friend did reassure me that they had enjoyed listening, so I guess that's two satisfied people.   
Reading stories to nursery age children via Zoom
This was perhaps the oddest experience. I was asked to read to children who were temporarily accessing their playgroup virtually from home . Sharing stories with children and their parents directly into their homes felt a bit intrusive, especially as I didn't know any of them! I am used to working with young children in many different settings but I found this to be quite tiring. I encouraged them to join in with refrains and rhymes, but the slight time delay with Zoom made this difficult and one sided. I'm not sure how much they really engaged and how much the adult with them had to work at keeping them focussed.
My sister-in-law then asked me to do a weekly Zoom slot with children at her London Day Nursery. When I first logged in five minutes before the allotted story-time slot I was greeted with about twenty five little baffled faces. They were sitting cross legged on the floor gazing at what turned out to be a very small screen. I kept the session suitably short and with the help of a very disruptive and demanding Mr Wolf puppet (who behaves rather like Emu), managed to get some smiles. Goodness only knows what they made of seeing a disembodied strange elderly woman showing them a book and encouraging them to sing 'Who's Afraid of the Big Bad Wolf',which is now the signature request of the Mr Wolf puppet. I have now done three sessions so feel a bit more tuned in to what they might like.  
So, overall I have missed the two way interaction which provides the co-construction of a satisfying story experience. I want to be able to go slowly and draw children's attention to individual details in illustrations. I miss being able to read their responses whether it is through facial expression or body language. I need them to join in, ask questions and maybe offer their own interpretations.  I miss being able to let them touch the books, point out interesting bits that I might not have noticed and watch them looking closely at the books when I have finished reading. I am so looking forward to doing that all again in the not too distant future and relishing the special face to face experience.   
Karen Argent
May 2021