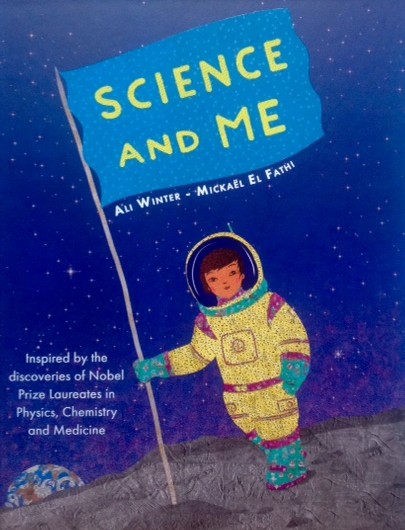 posted on 04 Apr 2021
Science and Me by Ali Winter, illustrated by Mickaël El Fathi
Following on from the very wonderful Peace and Me which was also reviewed on this site back in 2018, Ali Winter and Mickaël El Fathi have teamed up again to bring us an equally enthralling confection called Science and Me.
And what a pleasure it is to have a book that not only makes science so accessible and readable but also does it by introducing us to the men and women who have pioneered some of the most important scientific breakthroughs of the modern world. Taking 1901 as their starting point we get to find out about those brilliant minds that have been awarded the Nobel Prizes in Physics, Chemistry and Medicine over the intervening years.
There are some big and famous names to get to grips with here – Marconi, Einstein, Marie Curie, Dorothy Hodgkin for example – but there are also some big and considerably less well-known names too. I was introduced to some real scientific heroes like Francoise Barre-Sinoussi whose work on identifying HIV and developing treatments for AIDS has saved so much suffering. And I discovered Youyou Tu, a Chinese medical scientist whose selfless dedication led her to find treatments for malaria that have saved millions of lives. Or, what about Mario J. Molina who told us just how dangerous CFCs are to the Earth's ozone layer.
It would be easy to go on giving you amazing examples of the pen portraits that you'll find here. Ali Winter gives us a well-judged introduction to the life and achievements of our scientific heroes that is written in a non-patronising but entirely accessible way. What's lovely about these bite-sized thumbnail sketches is that they are likely – if you are anything like me -  to send you off to find out much more and not just about the names you're unfamiliar with.
All of these riches are supplemented by Mickaël El Fathi's beautifully judged illustrations that add an extra dimension to information. And it's all set in a fabulously well designed package that is often the hallmark of Lantana books – they don't compromise on quality.
At the start of the book you'll also find a world map that shows you where these great scientists come/came from and which helps to emphasise that science is global and that knowledge knows no borders or boundaries. And, at the end of the book you'll find a mediation that starts 'Science is…' and ends with the question, 'What does science mean to you?'
The best advice I can give you is to get your hands on a copy of this lovely book and spend a bit of time contemplating your own answer to that important question.
Terry Potter
April 2021