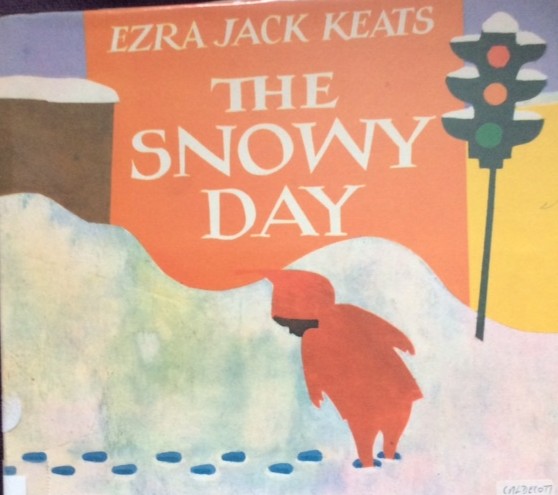 posted on 21 Sep 2020
Ezra Jack Keats
I have always enjoyed the distinctive, vividly coloured, collage style effects of this US author/ illustrator. In 1962, his award winning picture book 'The Snowy Day' made history as it was the first to show an African American child protagonist, Peter, with his iconic red snowsuit on a front cover. Keats is generally acknowledged as a pioneer in the field of ensuring that all children deserve to see themselves represented in the books that they read. As such, he founded the Ezra Jack Foundation, an organization which continues to advocate his strong belief that 'If we could see each other exactly as the other is … this would be a different world'. The royalties from his books after his death in 1983 continue to support arts and literacy programmes in public schools and libraries throughout the USA.
I have four of the other books in the influential series about Peter and his friends who live in an ordinary, rather run down New York neighbourhood. I didn't know much about Keats, and so I was delighted to find an homage narrative poem book by Andrea Davis Pinkney, illustrated by Lou Fancher and Steve Johnson. This is a beautiful book in its own right but told me so much about his background and how he came to develop his particular style.
Jacob (Jack) Ezra Katz was born in 1916 in Brooklyn, New York as the third child of poor Polish Jewish immigrants. He was always very artistic and won lots of prizes when he was at school. Encouraged by his proud father, teachers and librarians, he dreamed of one day becoming an artist. He had to settle with working as a sign writer, later designing materials for the Works Progress Administration ( WPA), a post- Depression initiative, and then as a comic book artist for Marvel. During the subsequent war, he joined the air force and also produced posters, booklets and other materials for the war effort. He continued to experiment with a range of media including oils, watercolour, gouache and pen and ink.
After the war he struggled to find work partly because of prevalent anti- Semitic discrimination and, like many others, changed his name to make himself sound more 'American'.   In 1954, he found a job illustrating children's books and eight years later was invited to write and illustrate his own first book – 'The Snowy Day'. The inspiration for the main character was apparently based on some photos of a little child in a newspaper from twenty years before and that these were still pinned on his noticeboard with many other fragments. The book was his first opportunity to experiment a layered effect with a range of patterned wall paper, torn paper, fabrics and oilcloth. I was intrigued to learn that he created the snowy effects with homemade snowflake stamps and then added India inks spattered with a toothbrush for depth. Pinkney quotes Keats as saying:
'"I was like a child playing" And he recalled the artistic freedom of being in a world with no rules'.
A statue of Peter and his dog, Willie stands in Brooklyn's Prospect Park as a fitting tribute to an artist who continues to be loved by children and adults everywhere.  His style has clearly influenced many contemporary and modern illustrators but none of them quite match the vibrancy and exuberance of his pictures that are saturated with colour.  For instance, in writing about 'A Letter for Amy', the author/ illustrator Pat Cummings explains:  
'Keats captures layers of childlike but never childish emotions in Peter's deceptively simple story. That the art is as nuanced as the words is awe inspiring … It's the layers that keep the story lively throughout repeated readings. The scraps and graffiti suggest a story within a story''.  
Karen Argent
September 2020
(click on any image below to view them in a slide show format)