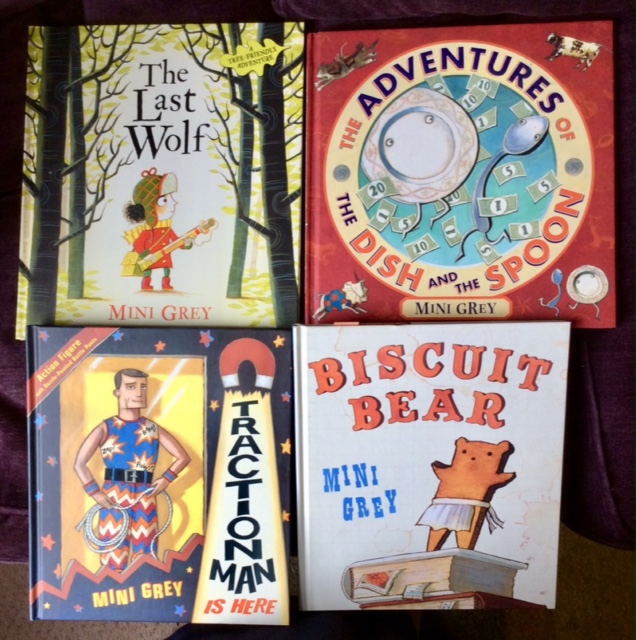 posted on 13 Jul 2020
Mini Grey
I have always been a big fan of this award winning illustrator's quirky style. I saw her at a live event several years ago and was delighted to see that her eccentric and very likeable personality was part of her attraction. She was apparently given her unusual name after being born in a mini in a car park in South Wales. She talked about how she relished the chances to take stories in unconventional directions, explore unusual perspectives and to be free to explore all kinds of possibilities through her delightfully detailed drawings.
Her first surreal picture book, 'Egg Drop', was published in 2002 but I first discovered her when I found 'Biscuit Bear' in an independent bookshop and laughed out loud! It is still one of my firm favourites telling the tale of a bear shaped biscuit that is destined to be eaten, who demonstrates great leadership and problem solving skills in the house where he lives, until he avoids his inevitable fate by becoming the star of an ever changing window display. I have already written about 'The Adventures of the Dish and the Spoon' and how it can be enjoyed by children of different ages as well as by adults with a sense of humour.
Amongst many other publications, she has illustrated a wonderful version of Hilaire Belloc's cautionary tale, 'Jim, Who Ran Away from His Nurse, and Was Eaten by a Lion'' and 'The Last Wolf' which is an imaginative interpretation of the Red Riding Hood story with a strong environmental theme. I also enjoy the various adventures of 'Traction Man' who is an action figure with an outfit for every occasion with a sidekick who is a scrubbing brush. With some strong echoes of the film 'Toy Story', they patrol the house saving other toys, guarding toast, saving damsels in distress all the time showing impressive skills of improvisation.
So what makes her a rather special illustrator? It is no surprise to find out that she had an interesting childhood spent exploring and creating. She talks about spending happy hours making tiny worlds with everyday objects. In an interview for PictureBook Makers Gallery, she also explains that she loved watching television and was a big fan of Oliver Postgate and Peter Firmin, especially the world they created for 'The Clangers'. Later she took a Foundation Degree in Art, an English Degree, worked as a theatre designer and then took a Master's degree in Sequential Design at Brighton University. As part of these experiences, she was trained in puppet making, set design, welding and puppetry which may explain why her illustrations often have a film like quality. One of her tutors was John Vernon Lord  and I can see his masterly influence on her meticulous attention to detail. She also worked for six years as a teacher which has clearly contributed to her understanding what children like to read about. 
The interview explores how she goes about her illustration work giving the example of 'Hermelin: The Detective Mouse' in which she undertakes lots of research and explores possibilities for the story, using a detailed notebook to record her initial thoughts. These include plenty of ideas that get discarded along the way but the resulting storyboard sketches are marvellous and show the benefit of extensive research in making what she describes as 'a real tangible environment'. It was fascinating to read about how she uses a range of media to make her distinctive illustrative style:
'Making the pictures: these are mostly painted in Quink and watercolour on heavyweight ordinary paper, with ink and coloured pencil on the top. I used masking fluid quite a lot so I could splatter backgrounds or do messy washes. Then I scanned them onto my computer and added textures and patterns I'd found. There were lots of readable fragments to make as overlays. Big shadows I added as transparent layers.'
She hasn't published anything for a couple of years and I am hoping that there is something rather marvellous in the pipeline for me to add to my growing collection.
Karen Argent
July 2020