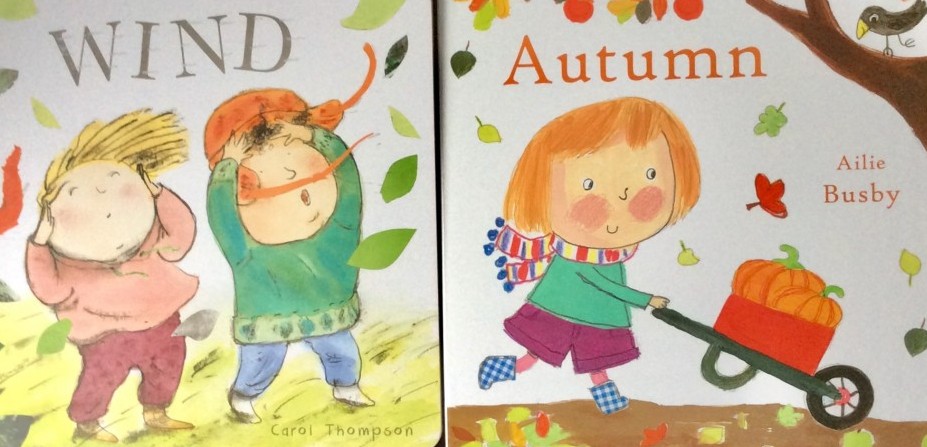 posted on 04 Nov 2019
Two autumn picture board books ideal for the season
I have rather a romantic view about the season of autumn and really love those rare days with a slight chill in the air that have a sunny feel and perhaps a gentle breeze, ideal for trampling through piles of beautiful crisp leaves in the park. In reality, this time of year is more likely to bring long bouts of relentless rain, fierce cold winds and piles of soggy, slippery leaves and big puddles.
But picture book world always gives us the very best version of such experiences and Child's Play International Publishers are renowned for putting a positive spin on the dampest of days. These two board books give a glimpse of autumn in all its glory. 
Autumn by Ailie Busby
As the story begins, two young children are shown lying in their bed as the rustling leaves fall outside the window.
Other warmly dressed children go to the park and collect acorns, pick blackberries and they are having plenty of messy fun:           
'We splash in the muddy
 puddles like ducks'.
Autumn time also offers the chance to do some pie baking with friends in a large, cosy kitchen. The final pages show more happy children collecting apples, pears and pumpkins in a wheelbarrow, basket and cart as the leaves keep falling.
Wind by Carol Thompson
This is one of a series by the very prolific author/ illustrator whose soft, distinctive style shows children enjoying and responding to different kinds of weather.  The wind might be strong but the cover shows that, if you hold onto your hat – it can be very exhilarating! The theme of being swept along by the experience continues throughout the book with children smiling as the wind blows through their hair, 'ruffles and tickles…. And snatches'! This isn't necessarily just about autumn weather because it shows one child running, eyes closed and arms outstretched through long grass with her dog as dandelion clocks blow about. By the final double page spread, we see the wind building in strength and the three children are almost blown away:
'Wind rustles and shakes …. Howls and roars'!
What I love about this book is the energy and noise of the different kinds of wind as experienced by young children, who hopefully get the chance to run about in it rather than be bundled safely into cars for much of the time. 
Both books show a range of different children playing happily together and I particularly like to see more than one child wearing glasses, as this is still too rare.  As ever, there is not an adult in sight, because children are perfectly capable of doing all these important, memorable  things for themselves in the world of picture books.
Strongly recommended for everyone young and old who loves the autumn season.
Karen Argent
November 2019