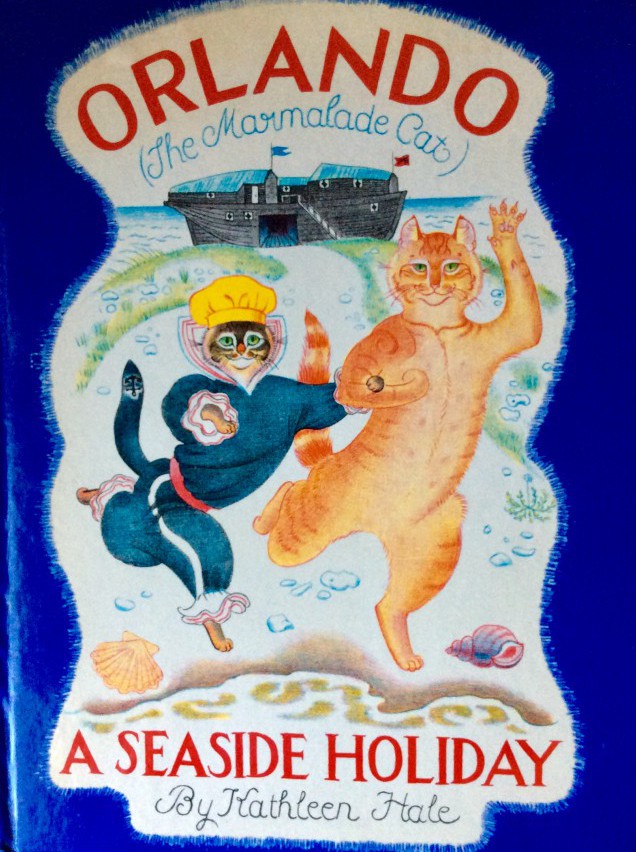 posted on 18 Dec 2018
Kathleen Hale
Kathleen Hale was born in Broughton, Lanarkshire in 1898 and began to receive commissions for book illustrations, dust jackets and posters during the First World War.  She was well connected to some significant movers and shakers in artistic circles including Augustus John, Duncan Bell, Richard Carlin, Jacob Epstein, Lett Haines and Vyvyan Holland. She always had a passion for drawing and writing stories but spent an unconventional childhood characterised by fierce rebellion and defiance and finally escaped from what she viewed as a stifling suburban background with scholarships to art schools in Manchester and then Reading. I have just enjoyed reading her autobiography, 'A Slender Reputation' where she explains how, after finishing art school, much to her mother's consternation, she found a job in London:
'I am not going home again … I am not going to learn to type. I am going to be an artist. You can send a policeman to fetch me, but I shall come back to London again and again.'
This marked the beginning of her life as an independent young woman who loved to meet people, to party and to soak up the many cultural influences around her. She continued to paint and to experiment with different media, for example she became fascinated with using metal to produce a range of extraordinary pieces that were very well received in the art world.
She was first inspired to write the children's stories, for which she is best remembered, when her own two sons were small. When she died in 2001 at the grand old age of one hundred and one, The Guardian's affectionate obituary described her as being 'part of a very English artistic tradition of mild bohemianism and modest bloodymindedness'. 
I have very fond childhood memories of enjoying books written and illustrated by this prolific author/ illustrator. Even at the age of five, Orlando the Marmalade Cat, her most famous character who appeared in a series of eighteen books, impressed me with his flamboyance, wisdom and daredevil adventures. She was apparently inspired to write these stories by an incident that happened during a trip to Italy with her husband:
 'The train had pulled into a country station, and there was a voluminous woman standing behind a table selling lemonade. She called out "Orlando," rolling the Italian vowels. A small boy emerged from under the white tablecloth, with hair the colour of a Seville orange'.
The obituary goes onto point out that Hale's innovative use of colour lithograph techniques was a breath of fresh air at a time when 'Colour-starved children of the war years were enchanted by the amiably optimistic, fatherly cat hero, with a coat striped like marmalade and eyes as green as gooseberries'. There had never been a storybook cat quite like him before because, like his creator, he had an 'alternative' approach to life. For example she suggests an idealised hospital in 'Orlando Becomes A Doctor' (1944) where he employs a French chef to improve his patients' diet and strongly recommends that the best cure for the rich is to give away half of their money to the poor.
The famous cat made his picture book debut in 1938 with ' Orlando the Cat: A Camping Holiday' and was an instant success, published by Country Life and Puffin Books. Throughout  the 1940s and 1950s, Orlando was a household name and he went on to be the star of BBC Radio's 'Children's Hour.' There was even an Orlando ballet staged as part of the Festival of Britain in 1951. The final story was published in 1972 and the books were reissued by Frederick Warne in 1996, closely supervised by Kathleen Hale who took the opportunity to correct any minor imperfections.
Perhaps part of their impact for me was down to the unusually large format of these books with their intriguing covers. In her autobiography she goes into considerable detail about how she was inspired by the Babar books which she had loved reading to her sons and was determined to produce something similar. She wanted to use seven colours as a base but hadn't at first realised the complexities of transferring her original drawings onto lithographic plates. When the publisher pointed out that this would make the books commercially unviable, she agreed to learn how to do the whole process herself. This was extremely time consuming, fraught with mistakes in the early stages, but ultimately very satisfying. Even after this, she had to trust the quality and expertise of the printing process as the final stage and always acknowledged this skill.
The first two Orlando books were bestsellers but then their popularity dipped for a while until a new title in a smaller format appeared as the first Picture Puffin book ever published which restored their reputation and considerably widened their audience. Looking back on them as an adult I can recognise the power of the detailed, quirky illustrations that paint a gorgeously coloured world as a backdrop for his many adventures. Every page has bold text, sometimes arranged at the bottom but often elsewhere, and is always dominated by the rather surreal drawings where animals live happily alongside people.
One of my favourites is a double page spread in 'Orlando the Cat: A Seaside Holiday' where two ungainly horses are sunbathing on the crowded beach, one with crossed hooves and the other one reading a book ' having put on his blinkers to read, for they kept his eyes straying from the page'. Meanwhile Orlando and his dear wife, Grace, share a deckchair as their three kittens play happily. In the foreground, one of them is struggling to put on swimming trunks and another builds a large sand mouse, complete with shell ears. We can see the little town of Owlbarrow perched behind the beach with brightly coloured houses and tiny people looking out from their balconies as a towel clad man smoking a pipe strides purposely along the road. A rather effeminate, moustachioed, highly muscled man is flying a kite at the water's edge. He is standing just in front of a woman who has her eyes closed in bliss as she licks an ice cream and trails a fox fur behind her. There is so much to look at and I get the feeling that the artist really enjoyed cramming the landscape with such an array of strange characters. Her autobiography reveals that she based this and all her colourful pictures on people and animals that she had observed during her long life. Her eye for detail plus an attraction to some very eccentric friends when she lived in London and other places as a young adventurous woman in her twenties makes her illustrations rich and witty. For instance Augustus John makes an appearance as the art master in Orlando's Home Life (1942) and Lett Haines appears in Orlando's Silver Wedding (1944) as the cloth-capped cat napper whose feelings for the feline carry him away.
I hadn't quite appreciated how innovative and important she was to the world of book illustration. I have enjoyed learning more about her action packed extraordinary life and relished the chance to linger over those beautiful pictures again. If you don't know about Kathleen Hale, you are in for a sumptuous treat. 
Karen Argent
December 2018