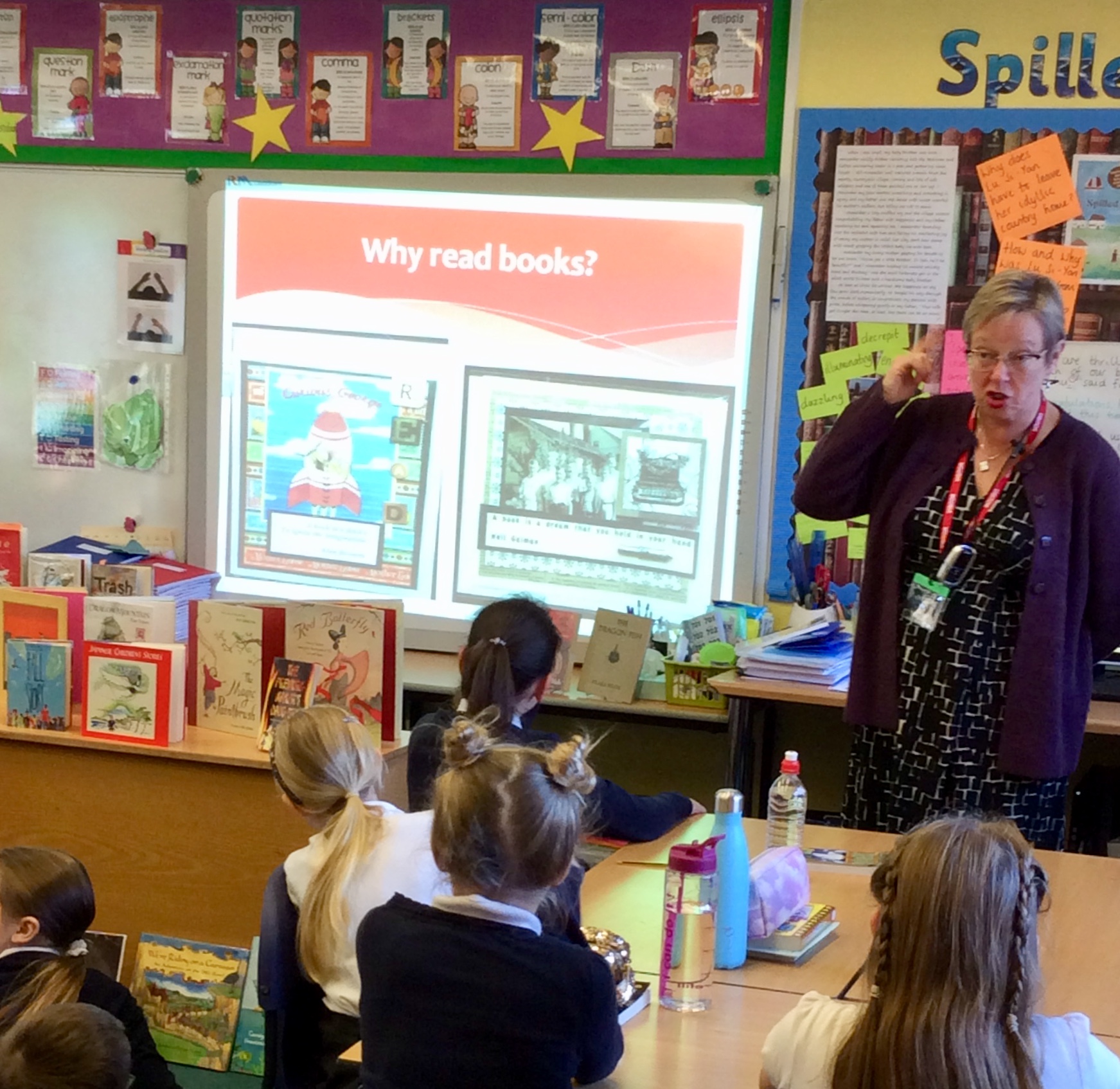 posted on 21 Nov 2018
Travelling to the East from Greenfield Primary School in Stourbridge
I was very pleased to be invited back to Greenfield Primary School in Stourbridge, this time to talk about books inspired by China, Japan and The Philippines with the children from Years Five and Six. All book lovers know that a good story can transport a reader to exciting far off places without expense and the tiresome trouble of organising transport.
This is a school that puts books at the heart of their curriculum and both classes had already started reading Spilled Water by Sally Grindley as part of their current topic 'East is East'. These are confident children who are always encouraged to offer their opinions about books and to develop their critical analysis, so successfully persuaded me that I needed to read it as well.  
I had brought along a wide selection of books to entice them to read more widely and I was impressed at their concentration and involvement during the session. I talked about the importance of illustrative style in helping to convey atmosphere and different artistic traditions including the gorgeous Red Butterfly: How a Princess smuggled the Secret of Silk out of China by Deborah Noyes , illustrated by Sophie Blackall. We lingered over the pictures and text inspired by traditional patterns and the heritage of Ancient China and discussed how the shape of the words in relation to the white space was important in the overall calm delicacy of the book.  Is it a Mermaid by Candy Gourlay, illustrated by Francesca Chessa conveys the extraordinary beauty of The Philippines and I encouraged the children to read my review of this stunning picture book.
They were fascinated to hear that The Story of Yuriwaka by Erik and Masako Haugaard, beautifully illustrated by Brigitta Saflund in a traditional style, was the Japanese version of the story of Odysseus which they had learnt about before. I read a short extract from this one, plus others from Trash by Andy Mulligan; Lao Lao of Dragon Mountain by Margaret Bateson-Hill, illustrated by Francesca Pelizzoli and Tall Story by Candy Gourlay. Both Candy and Margaret have done interviews for The Letterpress Project  and each kindly had sent the children a personal message to explain why they wrote the stories which was rather thrilling. 
As usual, an hour wasn't enough time to do justice to all of the books, but I left feeling encouraged that they had enjoyed a flavour of the three countries we had talked about – read their comments to find out more about what they liked.
You can see below some of the comments made on the books by the pupils:
Aleeza – I really enjoyed Karen's talk. I think it will help more children to enjoy books. I'm really keen to read Tall Story because it's based on life in the Philippines.
Evangeline – It was very interesting to hear about all the books. I learnt some new facts about China, Japan and the Philippines.
Miles – I was impressed with the amount of books Karen owns. I learnt a lot of facts to do with the Philippines.
Edie – I enjoyed the talk and it was interesting to see the different types of books Karen owns. I am excited to read Trash because I enjoy reading adventure stories
Ethan – I enjoyed Karen's talk. I would really like to read Tall Story because the main character is 8 foot tall.
Mirac – I like the stories that Karen shared with us. I liked the extract from Trash where the children find a wallet full of money.
Theo – I would like to read Tall Story because the main character is 8 foot tall and enjoys basketball too.
Annabelle – My favourite book that Karen spoke about was Red Butterfly.
Rufus – I liked hearing about the book Trash because the moral is that you can still have fun whether you are rich or poor.
Boo – I like the dragon illustrations in Lao Lao of Dragon Mountain. It's interesting how the story is told in English and Chinese.
Myles – I enjoyed the session with Karen because it showed us a variety of books that I would like to read.
Isabelle – I am very happy we learnt about books from around the world and learnt how to say book in Chinese and Japanese.
Edie – I found it really exciting to hear from the two authors - Margaret Bateson – Smith and Candy Gourlay – I would like to do a book review for them.
Brandon – I enjoyed Karen's lesson because it was very interesting to find out all about China and Japanese books. I'll be really interested to read some of the books she lent us.
Karen Argent
November 2018