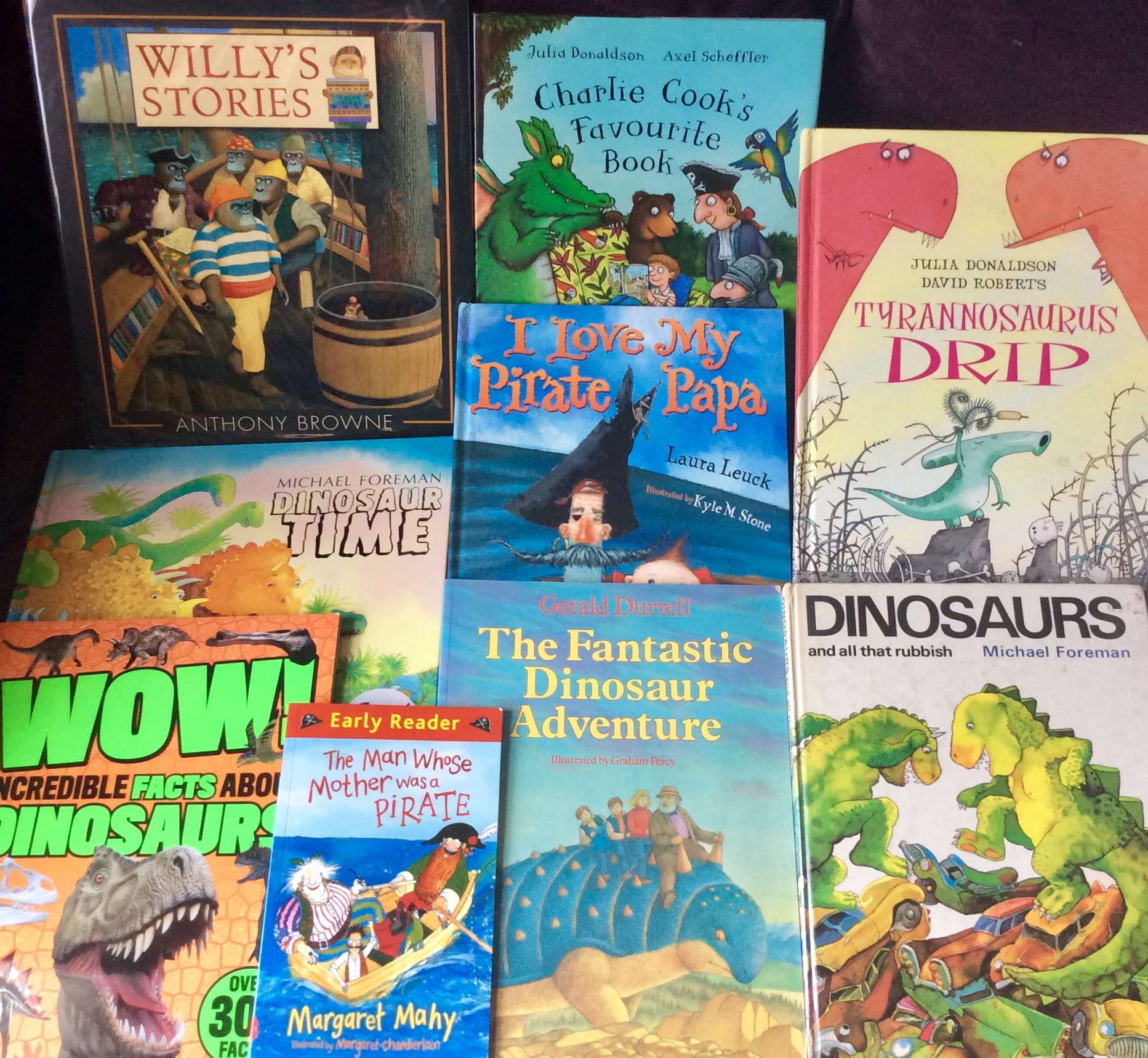 posted on 17 Jul 2018
Pirate Paul and Professor Edwin lend me some books
I have recently been asked to do two 'Wild Things and Gold Rings' events about two very different subjects at different schools. I am writing about them in one piece because I approached them in a similar way with the help of a power point which seemed to work. It hardly needs to be said that I also took along a trolley full of beautiful books as well.
Whatever the age of my audience I always begin by explaining how my house is stuffed full of books with shelves in almost every room. I usually show a few photos but decided that this time I would include a search for books in every room. This turned up quite a few and as we travelled through my house I showed them a few pictures from each book that I found, read the blurb for some of them and read a few short extracts too.
The theme about pirates was with four groups of children from the nursery and reception classes at Caldmore Academy in Walsall. This was part of a pirate themed week so they were dressed accordingly. As all the staff were also dressed as pirates, I explained that I had forgotten to take my costume out of the washing machine the night before!
The Man whose Mother was a Pirate by Margaret Mahy, illustrated by Margaret Chamberlain and I love my Pirate Papa by  Laura Leuck, illustrated by Kyle M. Stone led me to ask whether any of them had pirate relations and much to the surprise of the staff - several had pirate mums and dads! We wondered whether this should be an additional tick box on their starting schools forms?
They were amazed to learn that I also have pirate relations plus several other pirate friends who lent me a few from their collections to bring along. Pirate Paul (my son) was keen to recommend Charlie Cook's Favourite Book by Julia Donaldson, illustrated by Axel Scheffler and Willy's Stories by Anthony Brown, both of which make some links to Treasure Island by Robert Louis Stevenson.  Pirate Paul also made a phone call as we talked to remind me that he wanted the children to draw some pirate pictures for him to look at. We then had a quiz using six pictures of pirates from by different illustrators and they thought about which one they liked best and why. They all liked different ones for different reasons although when working with such young children it is a good idea to get an adult to model a response so that they don't just say 'because it's nice.' Even then they tend to just copy exactly what they say but it doesn't really matter.
The theme about dinosaurs was with groups of year one children from Walmley Infants School in Sutton Coldfield and I had been forewarned that some of them had a lot of dinosaur knowledge. It turned out that one boy had an extensive collection of dinosaur books which he was very proud to talk about. We did a quick tour of my house again but this time I was keen to emphasise the difference between fiction and non- fiction. They were very impressed that I found a dinosaur with my name in Wow! Incredible Facts about Dinosaurs! I think it's very important to let them know that adults can also gain new knowledge by reading.
When I looked in my bedroom I found Dinosaurs and all that Rubbish and Dinosaur Time by Michael Foreman, who is one of my favourite illustrators and it was good to be able to introduce his work to the children. They were surprised when I told them that I had about eighty of his books. This time I called on the help of various dinosaur experts that I knew to let me borrow some recommended books. These included Professor Edwin (my late dad) who I am pretty sure would have been delighted to have a photo of him dressed up in fancy dress as part of the power point. He recommended the Fantastic Dinosaur Adventure by Gerald Durrell, illustrated by Graham Percy and Tyrannosaurus Drip by Julia Donaldson, illustrated by David Roberts. The quiz this time was to choose a favourite Triceratops drawn by different illustrators. One was by Michael Foreman and I was delighted that they remembered his name!
It would have been great to have time to read a whole story as planned for both pirate and dinosaur sessions, but there wasn't time. On reflection I think that it was better to have an introduction to a wide variety instead which would hopefully whet their appetites.
Karen Argent
July 2018