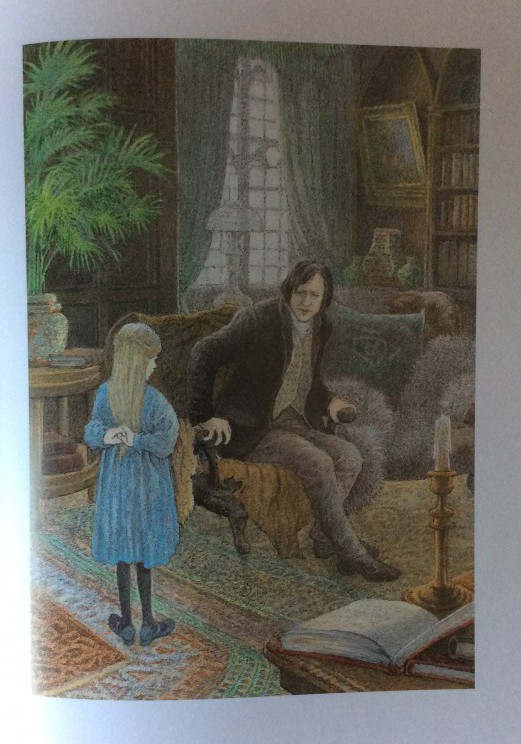 posted on 27 May 2018
Inga Moore
There is something very romantic and pleasingly nostalgic about book illustrations by Inga Moore so, it is no surprise to learn that she admits to having fond memories of reading classic storybooks illustrated by people like Arthur Rackham and Edmund Dulac and also for having an admiration for landscape painters. She was born in Sussex but moved with her family to Australia in 1952 at the age of eight.  She has described herself as an imaginative, sometimes subversive child who always loved drawing and illustrated many home- made books when she was younger. Despite this talent, she didn't study art formally and regrets that she didn't go art school. She returned to England as an adult and worked in various positions in London, one of which was making maps for a ground water company where she rediscovered her love of drawing landscapes. She eventually moved out to the countryside where she continues to work as a full time illustrator in Gloucestershire. 
She has developed a very distinctive rather 'old fashioned' style of illustration using a multi- media and multi- layered approach with coloured pencil, ink and water colour in order to create very detailed and gentle images. Her first publishing success was the award winning Six-dinner Sid, the story of a greedy black cat which she wrote and illustrated.
Moore went on to produce several other highly acclaimed picture books over the next few years However it was her beautiful interpretation of Kenneth Grahame's The Wind in the Willows' published in 1996 which sealed her reputation. She explained that she had first read the book when a teenager and 'loved it for its celebration of kindness and companionship'. She greatly admired the original illustrations by E.H. Shepard but felt that she could 'show more of that whole world the characters inhabit.' This resulted in delicately coloured illustrations that communicate her love of the countryside. In an interview for The Guardian with Joanna Carey she explains that living in Gloucestershire was perfect for inspiring her work:
'The quality of the light in the studio and the abundance of wildlife, it was the perfect place to live and work on The Wind in the Willows," she says. "I could never have done it in London'.
The book took three years to finish and is quintessentially English in atmosphere with the suffusion of green for the majority of pages which makes it almost smell of wet summer grass and conjures up the hum of bees. The interviewer suggests that   'The landscapes in this book reflect the nearby Windrush valley, capturing not just the infinite tonal variety in the hills but also the grace and individuality of the trees and the gentle luminosity of the river. She emphasises the hilly nature of the country­side by creating a "composite" photomontage and then, in the ­finished artwork, making it "more ­extreme", so you can explore the ­exaggerated "helter-skelter" effect in a satisfying way'.
She is also very skilful at portraying animals:
'Like Beatrix Potter, she has an easy understanding of anatomy which allows her to give the animals human characteristics (and clothes) without sentimentalising or ridiculing them (except for Toad who, although always sensitively drawn, is never knowingly underplayed). Eloquent in stance and gesture, the animals express themselves physically as well as they do verbally'.
https://www.theguardian.com/books/2010/feb/06/inga-moore-illustration-wind-willows
 Her next triumph was Frances Hodgson Burnett's 1911 novel The Secret Garden. Whilst the original book only had nine illustrations by Charles Robinson, this version has more than a hundred. Moore is clearly in her element conveying the contrast between the cultivated garden which includes the vegetable patch with luscious cabbages and impressive topiary contrasting with the wilder moor and the much neglected secret garden. I also like the solidity of her human figures at the beginning of the book and how they increasingly become part of the natural landscape as the secret garden flourishes. Once again she shows how well she can draw a range of animals in their natural environment and she also shows attention to detail in the indoor scenes which are packed with fussy claustrophobic clutter.
Another favourite of mine is A House in the Woods (2011) which she has written and illustrated. Here she creates an atmospheric woodland world where two pigs, a moose, a bear and some beavers come together to build a home that will suit all their needs. The very friendly rather fuzzy demeanour of all the animals reminds me of Helen Oxenbury's style. But it is the beautifully drawn tree trunks and gorgeous piles of golden autumn leaves that make this picture book special and again convey a deep affection for the countryside. Many of the illustrations are in double page spreads that bleed right to the edges with soft colour. The text is minimal and set against a white background but the pictures tell the dramatic and funny story well enough.
I wonder if she has any plans to produce a wordless picture book in the future because I think it would be brilliant.
Karen Argent
May 2018     
( Click on any image below to to view them in a slide show format )