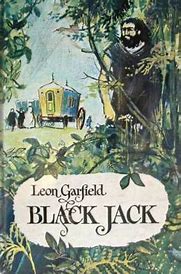 posted on 08 Apr 2018
Antony Maitland
I was recently reorganising books on the new shelves we've had built and I was pulling together our collection of historical adventures by Leon Garfield. My task was made much easier by the fact that so many of the books have immediately distinguishable dust jackets and a good number of them have been draw by Antony Maitland.
Maitland, born in Hampshire in 1932, is another of those illustrators who are not served well by the internet. There is very little information out there and much of it seems extraordinarily unreliable – even his name seems to a matter of dispute and is  spelt variously both 'Antony' or 'Anthony' and his date of birth given as 1935 rather than 1932. I also can't find a photograph of the man. I have chosen instead to rely on Alan Horne's authoritative Dictionary of 20th Century British Book Illustrators, which is also, sadly, a touch sketchy in its detail. I'm pretty sure, however, his name is spelt Antony because it's printed thus on the dust jackets I have in front of me.
What Horne tells us is that he studied art at college in Bristol and then went abroad 'to Europe' for a year to continue his apprenticeship. Maitland, although primarily known for his work as a book illustrator, is in fact an artist with a much broader repertoire who has exhibited paintings and murals as well as a wider range of graphic work. As an illustrator he has worked in pen and ink, ink wash and full colour.
His first book illustration was for Philippa Pearce's Mrs Cockle's Cat which was commissioned by the publisher John Constable in 1961 and it was judged an immediate success because it won him the Kate Greenaway medal for that year. However, despite being in demand as an illustrator of the books of other authors, he turned author himself in several times, starting in 1962 with his first book, The Secret of the Shed. Three or four of his own books followed in the years between 1964 and 1977.
Although his most prolific partnership seems to have been with Leon Garfield (he illustrated at least nine books in this sequence) he also illustrated books by Eleanor Farjeon, Penelope Lively, Joan Aiken, Jan Mark and Aidan Chambers.
Maitland's style seems to owe a good deal to the influence of Edward Ardizzone or perhaps even Mervyn Peake and that very distinctive layered pen and ink style is exactly appropriate for the often murky atmosphere required for stories set in the streets of 18th century England. But it's his book jacket design in full colour that I like the best – it's detailed and features realistic representations always in dynamic situations full of promise and adventure.
Leon Garfield's historical adventures have rather fallen out of fashion these days and I'm saddened to see them turn up so often in charity shops. Perhaps as a result of these older books for young adults rather falling out of favour, the profile of the illustrators drops too – and that's such a shame.
Antony Maitland deserves to have a higher profile amongst the public and maybe getting accurate and appreciative information about him into the public forums would be a good start.
Terry Potter
April 2018
( Click on any of the illustrations below to view them in slide show format )