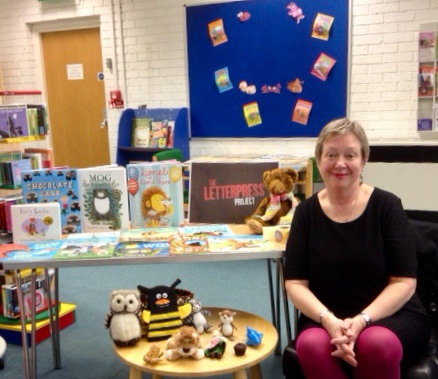 posted on 13 Mar 2018
Little Miss Karen at Tamworth Library
Whenever I do a story reading event with a group of young children, I try to introduce myself by name and in turn to remember their names. So when I was invited to do a two hour interactive event at Tamworth Library as part of the town's literature festival, I went into my usual mode. The idea was that children would drop into the children's section of the library and stay with me for as many stories as they felt inclined - most drifted away after two or three. That is apart from young Reuben, who never strayed very far and so was part of the introductions ritual several times.  He seemed rather pleased to be the only one to remember my name with the arrival of each new batch of children, and then decided to embroider a little, first I became ' Miss Karen' and on the next round I was' Little Miss Karen' which I think adds another interesting dimension to my identity! 
I had brought along a range of tried and tested picture books with accompanying props to help individual children to make a selection when asked. Because of limited space in my bag I had replaced the large soft toy shark that I usually use with Shark in the Park by Nick Sharratt with a small wind up plastic version – never again. It proved to be a huge noisy distraction from focussing on the book for the child who as holding it and was obviously coveted by the children sitting near her! A real chocolate muffin was the prop for Chocolate Cake by Michael Rosen but I had the foresight not to give that to anyone until I had finished reading the story (with parental permission of course). Even so I think that next time I might take along a knitted version just in case of the inevitable disappointment of not being chosen to eat it and the possibilities of allergies.
 I was very pleased to be able to share my books with groups of lively young children who had been brought along by keen parents and grandparents. Everybody joined in with various refrains and responded with good humour to my requests for helping me to tell the stories as my voice became a bit hoarse. It was the first time that I had read the very funny Lionel and the Lion's Share by Lou Peacock, illustrated by Lisa Sheehan and it went down very well with even the youngest children looking outraged at the selfishness of the lion who greedily takes all the musical instruments, hats and balloons and even scoffs all the birthday cake at a party.  I like the opportunity to introduce new picture books like this one but old favourites like A Squash and a Squeeze by Julia Donaldson , illustrated by Axel Scheffler  and Wow! Said the Owl by Tim Hopgood are great as well because the children want to join in and show off their knowledge of the story and the various characters.
The time passed very quickly and pleasantly so I hope that Little Miss Karen might be invited to return again for next year's festival.   
Karen Argent
March 2018