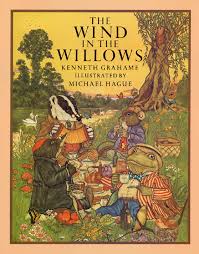 posted on 17 Jan 2018
Michael Hague
Michael Hague is a prolific and highly renowned American illustrator and writer of children's books who currently lives in Colorado Springs.  He was born in Southern California in 1948 and is the eldest of three children. His mother introduced them to the stories and art in the fairy tale books she enjoyed herself as a child and also encouraged Michael to draw while growing up, which led to his interest in becoming an illustrator.

He originally trained at the Art Center College of Design in Los Angeles from where he graduated with honours in 1972. In a fascinating video made in 2013, Hague explains that he had always wanted to be an illustrator, originally working for Hallmark Cards. He has been fortunate enough to have steady work since the 1970s but made his reputation as an illustrator of children's books with the publication of the very successful Wind in the Willows in 1980. He talks about his methodical way of working whereby he makes small sketches based on an initial interpretation of a story. He has more recently become a fan of using photoshop techniques and is particularly interested in producing comic books that he has written himself. When asked about his preferred media he tells the audience that he usually uses water colours with an occasional mix of gouache and oil paints and even salt to provide necessary texture.  ( https://www.youtube.com/watch?v=a-JsSC9LZ2s ) 

He has illustrated many classics of children's literature such as The Hobbit , Peter Pan , Alice's Adventures in Wonderland , The Secret Garden, The Fairy Tales of Oscar Wilde and the stories of Hans Christian Andersen. He has also illustrated several books by his wife Kathleen and other authors. His more recent work includes comics and In the Small, a graphic novel that he wrote himself about a magical blue light that makes all creatures six inches in size.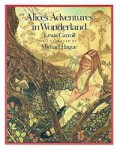 Hague continues to be influenced by a wide variety of artistic styles, ranging from the Japanese printmakers Hokusai and Hiroshige to the movies of the Disney Studios and comic book art, particularly the work of Hal Foster and Windsor McKay. He also cites the enduring importance of early 20th century illustrators and artists such as Edmund Dulac, Arthur Rackham, W. Heath Robinson, N. C. Wyeth, Howard Pyle and many others. He is rightly renowned for the intricacy that he brings to his work, and the rich colours he chooses. His illustrations are often densely packed with decorative detail but his human figures nevertheless have a pleasing solidity and realism that characterise his distinctive style. One of my favourite books is The Wizard of Oz where the combination of reality and fantasy plays such a central part of the story. His Dorothy is a homely looking Kansas girl in a pinafore, who sometimes wears a pink bonnet and the Munchkins are sturdy and smiling. The rather camp looking Tin Woodman has a colander type hat and a dapper moustache, the Scarecrow is floppily soft with a drawn face on what appears to be a stuffed pillow case and huge red spotted gloves but the Lion is just a very convincing animal. I particularly love the suffusion of green when they are in Emerald City.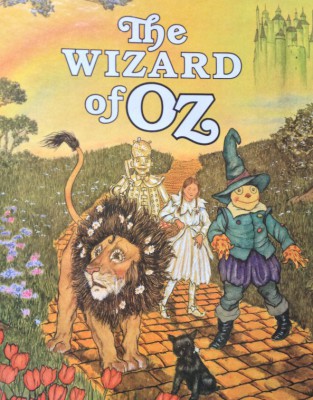 In the interesting Illustrator's note at the end of the book, Michael Hague says of himself,
"I count myself as one of the most fortunate of beings. For as an artist I have not only the pleasure but also the duty to daydream. It is a part of my work. I have been a contented daydreamer all of my life, often to the exasperation of those around me".
He clearly loves the Wonderful World of Oz and this affection comes through his beautiful illustrations, as with all his work:
'My yearning to visit Oz has not diminished with the passing years. The idea of wandering among the Winkies and Munchkins remains as appealing as ever'.
In a piece on his official website, Hague explains
'I have always wanted to be a book illustrator. Books are what got me interested in the art field in the first place. I try to infuse my illustrations with the same spirit that the author of the story produces in my imagination. I strive to create something from an empty canvas that becomes a whole "other world" that people can visit for a while and totally believe in --- that's what is exciting to me as an artist. It doesn't matter whether it is a Greek myth or an American legend, my approach is the same, to try and blend fantasy with realism." (  https://www.amazon.com/Michael-Hague/e/B000AQ2NLS )
 
Karen Argent
January 2018