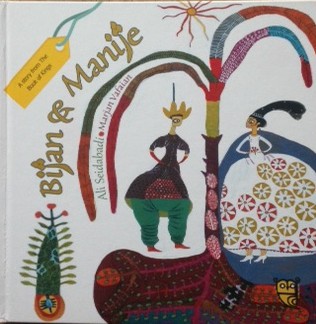 posted on 26 Aug 2017
Bijan & Manije  by Ali Seidabadi illustrated by Marjan Vafaian (edited and rewritten for UK audiences by Nicolette Jones)
This beautifully produced love story of Bijan & Manije is taken from the 10th century Persian epic poem known as the Shahnameh or Book of Kings, written originally in couplets by the renowned Iranian poet Ferdowsi. This particular tale, which is taken from that much longer work, has been adapted in prose for a younger audience by Ali Seidabadi and further edited and rewritten for a British audience by the author and editor Nicolette Jones.
Bijan, a brave young Persian knight falls in love with Manije who is a Princess and daughter of his greatest enemy, the tyrant and ruler of the neighbouring territory, King Afrasaib. Manije smuggles Bijan into her palace and seeks to hide him from the tyrant but the lovers are found out and punished.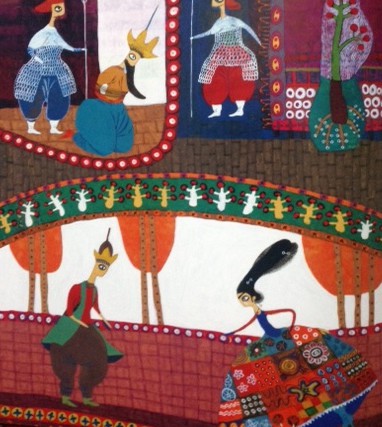 Bijan is sealed alive into a well by a massive boulder that keeps him imprisoned – but he is kept alive by Manije who is able to get food and drink to him via a small gap between the huge stone and the edge of the well. News of Bijan's plight finds its way home and, desperate to get him released, King Khosrow of the Persians calls on the renowned warrior Rostam to help because he is:
 'Iran's greatest knight, it's undefeated hero, known for his horned helmet, his blue beard, his superhuman strength and his cunning.'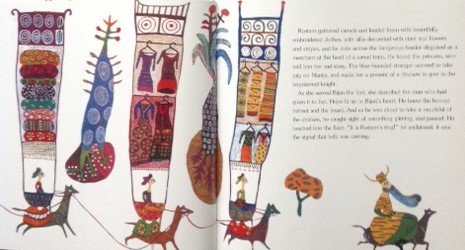 News reaches Bijan in the well that Rostam has met and taken pity on Manije and so he knows help is on the way. Sure enough, the great hero arrives, heaves aside the boulder and hauls the prisoner out of the hole. Together the three make their escape from enemy territory and back into Persian territory where the loving couple are married and a great party ensues.
The book is gloriously illustrated by the artist Marjan Vafaian. The publisher website tells us that:
Marjan Vafaeian's illustrations are elaborate and full of details that set her works apart from everybody else's. However, rather than being a prolific illustrator, she prefers to create meritorious works and so there are only a few published books illustrated by her.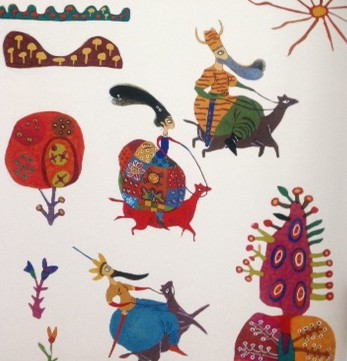 Her drawings are distinctive, colourful and seemingly naïve but they have the same unquantifiable appeal as the more detailed and fine drawings that adorn early illuminated Persian manuscripts. The use of a stark white background forefronts the stylised figures, plants and animals and they stand out like collage or applique on the page.
Copies of the book are available on the Tiny Owl website and buying a copy gives you the chance to support this excellent, small independent publishing house doing so much to bring us books from this part of the world.
Terry Potter
August 2017