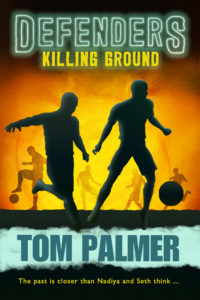 posted on 21 Jun 2017
Defenders : Killing Ground  by Tom Palmer
Tom Palmer's new book Defenders: Killing Ground is the first of a planned trilogy that will see instalments two and three released later this year. Palmer has a real passion for writing stories that revolve around his love of football and in this new departure he manages to put together a potent blend of his favourite sport, his favourite town (Halifax) and the ghosts and memories of the town's history.
Because this is the first book in a new series there are inevitably some introductions to be made and scene-setting to be done – and that still leaves plenty of untied threads that will certainly crop up again and play themselves out in the coming sequels. We meet teenager Seth and his mother who are life-long fans of Halifax Town, whose home ground, Shay Stadium, is virtually at the end of their road. We know Seth's mom has cancer and is undergoing treatment, we also know Seth's dad is dead – but just what happened to him is left hanging in a tantalising way and we are left to guess that there's something significant we might learn later about this. But perhaps most unnervingly of all, Seth can 'see' into the past. He isn't admitting it to anyone but the ghosts of history walk alongside him.
When the Shay Stadium has an upgrade of its floodlights ( although it also sounds like the team also needs an upgrade!) it seems to trigger a nightmare intrusion of the past into the present. And this is not a past anyone wants to relive – a Viking raid that led to the slaughter of all the native towns folk in the very earliest settlement in the area. It seems that only Seth can understand and stop what's happening and the mayhem that will ensue if the past is allowed to breakthrough into the present. He becomes, in effect, the town's defender of the books title.
I wont say any more about the plot or the tantalising hints about Seth, his powers or where they came from – you'll want to read this for yourself and once you have you'll want to get your hands on the subsequent books to see how all this is going to play out.
We are told that boys are more reluctant readers than girls and clearly Palmer and the wonderful people at the publishers Barrington Stoke are trying to do something about that by giving them plenty of adventure, jeopardy, blood and thunder and mixing it all in with a good dollop of the country's favourite spectator sport. It's a recipe that could have gone horribly wrong but, I glad to say, it doesn't. There are echoes here of Alan Garner and just a hint of the mystery behind Harry Potter – and that should be enough to get anyone reading.
Terry Potter
June 2017