posted on 20 Jun 2017
Letterpress Project at The Water Orton Carnival
This was our second appearance at the Water Orton Carnival following on from last year's successful story reading event ( this link will take you to the review). This was the event's 50th year celebration and so it's a very well established day out and, of course, it always helps if the sun shines.
Well, those wanting sun certainly got their wish with temperatures clocking up to a record level for this summer so far. A refreshing breeze took the edge off the heat but plenty of people broiled away in the sunshine and by mid-afternoon way too many people were finding their way to the ambulance with degrees of sunstroke. So, all in all, a good old traditional British summer event – too much sun, too much ice-cream and too much beer.
Letterpress set up a small bookstall exclusively featuring classic children's books old and modern at alarmingly cheap prices and from 1.15pm Project Director, Karen Argent, started story readings that featured a different children's favourite every half an hour.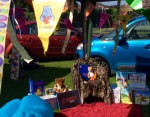 Take up was steady but not brisk – competing with the sun, the blue sky and a large fun fair was probably not really an equal contest. Children and parents looking for a break from the sun and tired of trekking around the other stalls took advantage of the shade of our gazebo and the seemingly endless fun of a large air-pillow to flop on.
The old favourites proved winners again – The Tiger Who Came To Tea, The Gingerbread Man, A Squash and A Squeeze  delighting some of the very youngest children.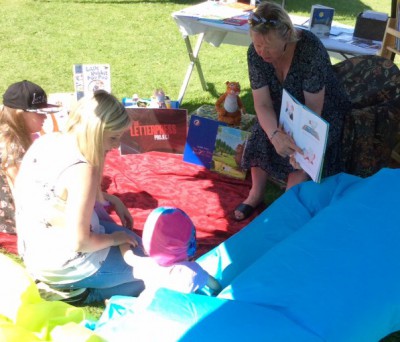 As the afternoon wore on and people were starting to leave the site, many returned to buy books before they left – obviously not wanting to carry them around the site all afternoon. We were particularly delighted to sell a collection of hardback Jacqueline Wilson books to one young girl who was thrilled with her capture and said with some relish that she was looking forward to getting home to start reading!
Now, that's what we're all about!
 Terry Potter
June 2017