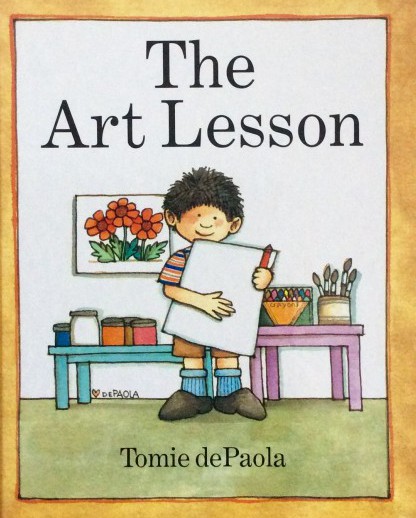 posted on 02 Jun 2017
Tomie dePaola
This prolific much loved American illustrator has now illustrated over 250 picture and chapter books, including many that he has also written. He was born in 1934 in Meriden, Connecticut into a family of Italian and Irish heritage that loved telling stories. At the age of four, he apparently told anyone who would listen that he wanted to write stories and draw pictures for books when he grew up – a dream come true!  He went to Pratt Institute in Brooklyn, New York where he 'spent four years learning how to draw everything- tin cans, dogs, cats, horses, trees'. He didn't have immediate success with his career as a children's book illustrator but was in 1965 asked to illustrate a non -fiction book 'Sound' written by Lisa Miller, part of the Coward –McCann series "Science is what and why" which drew some early attention to his distinctive style. In 1976 he retired from full time teaching art and theatre design at several different colleges in order to be able to devote his attention to his creative work.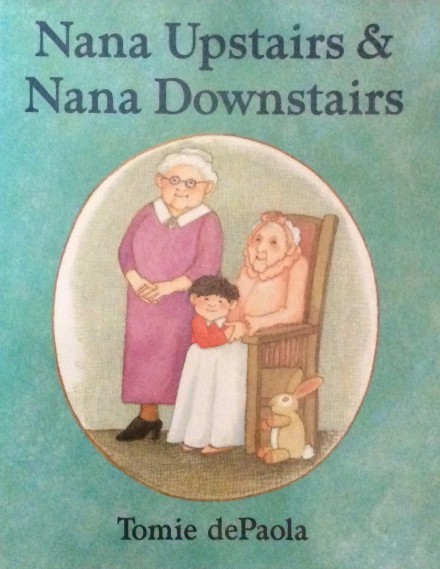 His books have been recognized with numerous awards, including a 1976 Caldecott Honor Book Award for Strega Nona (Grandma Witch) which is apparently very loosely based on his Italian grandmother. There have since been several other books about this fairy tale like character with her distinctive profile. DePaola has credited his close, loving family and early upbringing as having a strong influence on both his style and the subject matter of many of his books. This includes the Fairmount Avenue series of 26 books based on his childhood which includes 26 Fairmount Avenue which won the 2000 Newbery Honor Award. One of my favourite picture books is Nana Upstairs & Nana Downstairs which is all about his Irish grandmother and great-grandmother 'who was always in bed upstairs because she was ninety four years old'. The clean uncluttered style, often using muted pastel colours is very effective in conveying his memories that have a romantic atmosphere. He has completely reworked the original picture book which was first published in 1972 after twenty five years, stating that: 'it was important for me to retain the nostalgic feeling of the original, and I did this mostly with the use of soft color'.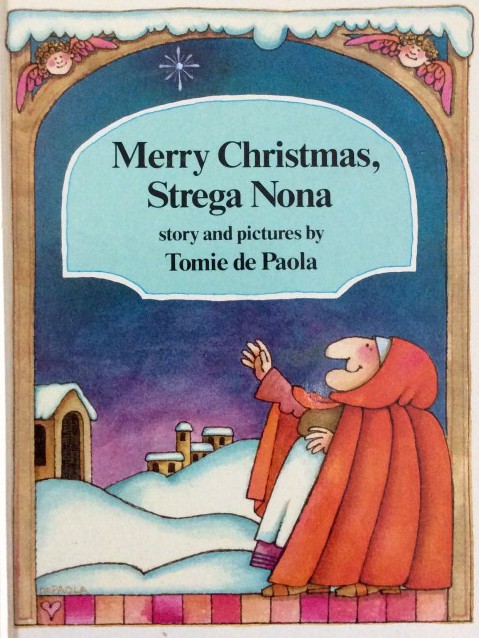 Much of his work has a fresco like quality, perhaps resulting from another early influence. I was interested to read his acceptance speech for the Regina Medal from the Catholic Library Association on April 5, 1983:
'Growing up Catholic was great for my visual education, too. St Joseph's Church, where I started out, was the rich West Side Irish Parish, as opposed to St Rose which was the rich East Side Irish Parish, was filled with what the sisters who taught Sunday School ( I went to public school so had Sunday School instruction) called ART. There were pictures of saints and biblical scenes painted all over the whole church – even on the ceiling. The Sistine Chapel had nothing on St Joseph's.'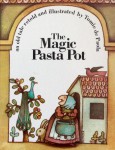 In a fascinating and lengthy video interview made in 2002 http://www.readingrockets.org/books/interviews/depaola he explains how his life- long interest in theatre has influenced the way that he plans the illustrations for his books taking especial care with selecting costumes and the scenery in which to place his characters. This sense of dramatic presentation is very strong in all his books. His artistic style is deceptively simple and one that he has developed because, like Matisse (an artist he greatly admires) once said 'he wanted looking at his work to feel like sitting in a comfortable familiar armchair' - a style that relies on a profound artistic skill based on training in traditional drawing techniques. DePaulo is also able to keep his style simple precisely because he can draw so well.
He has said that he likes using stories and pictures to explain difficult ideas and has also published many updated folktales, nursery rhymes and some religious books. Apart from his illustration work he also continues to paint on a larger scale and regularly exhibits.  
Karen Argent
June 2017