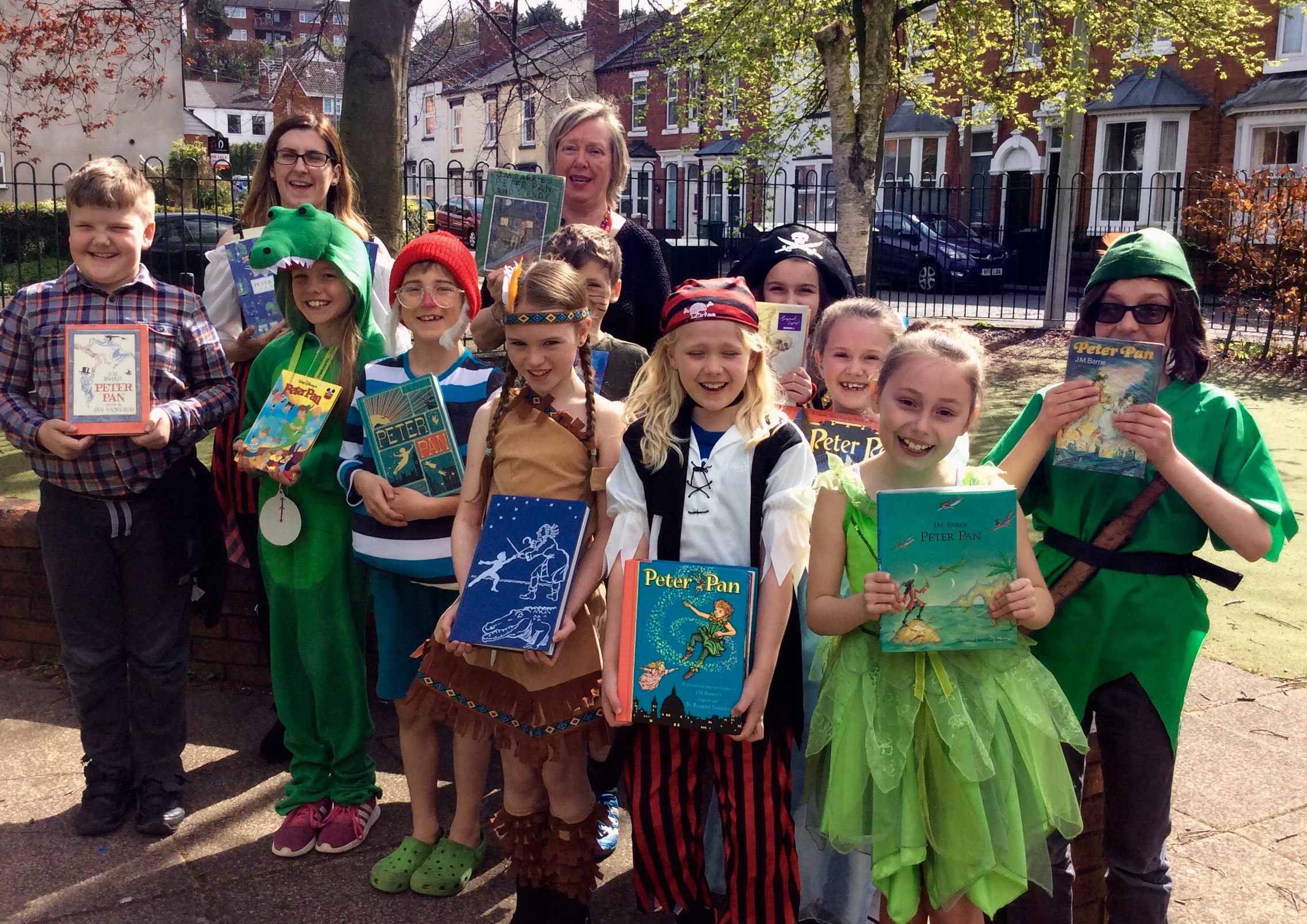 posted on 06 Apr 2017
Peter Pan books at Greenfield Primary School
I was delighted to be invited back to my all time favourite primary school to share and talk about some of my collection of Peter Pan books. The children from years three and four had been enjoying reading the story and doing lots of related activities and creative writing all term. I had already been very impressed with some examples of their poems about Neverland that had been performed in the poetry section of the school's Eisteddford in March ( I was one of the judges).
I managed to pack sixteen different illustrated versions of my collection into my trusty trolley and to reread the story for myself a couple of days before. I'm not certain whether I have ever read the original of this very dark and haunting classic. I decided that possibly these seven, eight and nine year olds had been using an abridged version as the vocabulary and overall concepts are so sophisticated. 
As this was the last week of the Peter Pan theme, I was greeted at the station by the head teacher who was wearing a pirate tee shirt and then at the school by children and staff dressed up and prepared for an afternoon party. I'm not a fan of school uniforms so it was rather lovely to have an audience that included fairies, bearded pirates, Peters, and Lost Boys plus a couple of crocodiles- some great costumes! They showed their extensive book knowledge by answering most of the quiz questions very well. A couple of children even knew the name of Wendy's daughter  ( Jane) but no one knew about her grand daughter ( Margaret). I guess that the version they used retold by Rose Impey, illustrated by Ian Beck and a Disney version didn't include all that original detail.
I wanted to show them a wide range of illustrations so we looked at my oldest edition, first illustrated by Mabel Lucie Atwell in 1938 and most of the children weren't that keen on the soft colours. They responded much more positively to the book covers of versions by Robert Ingpen, Jan Omerod and Michael Hague. I then showed them my personal favourite: the interactive one by Minamila,  a trio of designers who have also produced The Jungle Book and Beauty and the Beast. Their version of Peter Pan has a beautifully textured cover which the children really liked and described as ' colourful', ' well designed' and ' interesting'. It is packed with plenty of delicate inserts like a crocodile clock-face and a fold out map - gorgeous. I do love a book in a box case and they too liked the one with a cover designed by Cath Kitson with its repeated vintage pattern of London landmarks. As ever, the pop up version by Robert Sabuda caused plenty of open mouthed wonder and enthusiastic exclamations that included 'exquisite', 'unique', ' super', 'awesome' and 'cool'.
I think that all children benefit from seeing very different illustrative styles and that this helps to develop individual aesthetic tastes from a young age. Not everyone likes the same kind of illustrations, which is fine, but how do you know what you prefer if you never see different interpretations? I always like to get children thinking about this, so this time we finished with a vote for their favourite depiction of that iconic moment in the Peter Pan story when Captain Hook falls from The Jolly Roger into the jaws of the crocodile who waits for him in the water below. Although the Disney version has its own charm, I was rather pleased that most children chose one of the more subtle and complex illustrations, including one by Paula Rego. On the other hand, lots of them voted for the one by Michael Foreman, which I had just enthused about as one of my favourites - an indication of the influence of the adult in shaping taste methinks. Nevertheless, I hope that they will all be inspired by the variation to draw their own distinctive versions of that same moment. What a lovely way to spend an April morning.
Karen Argent
April 2017