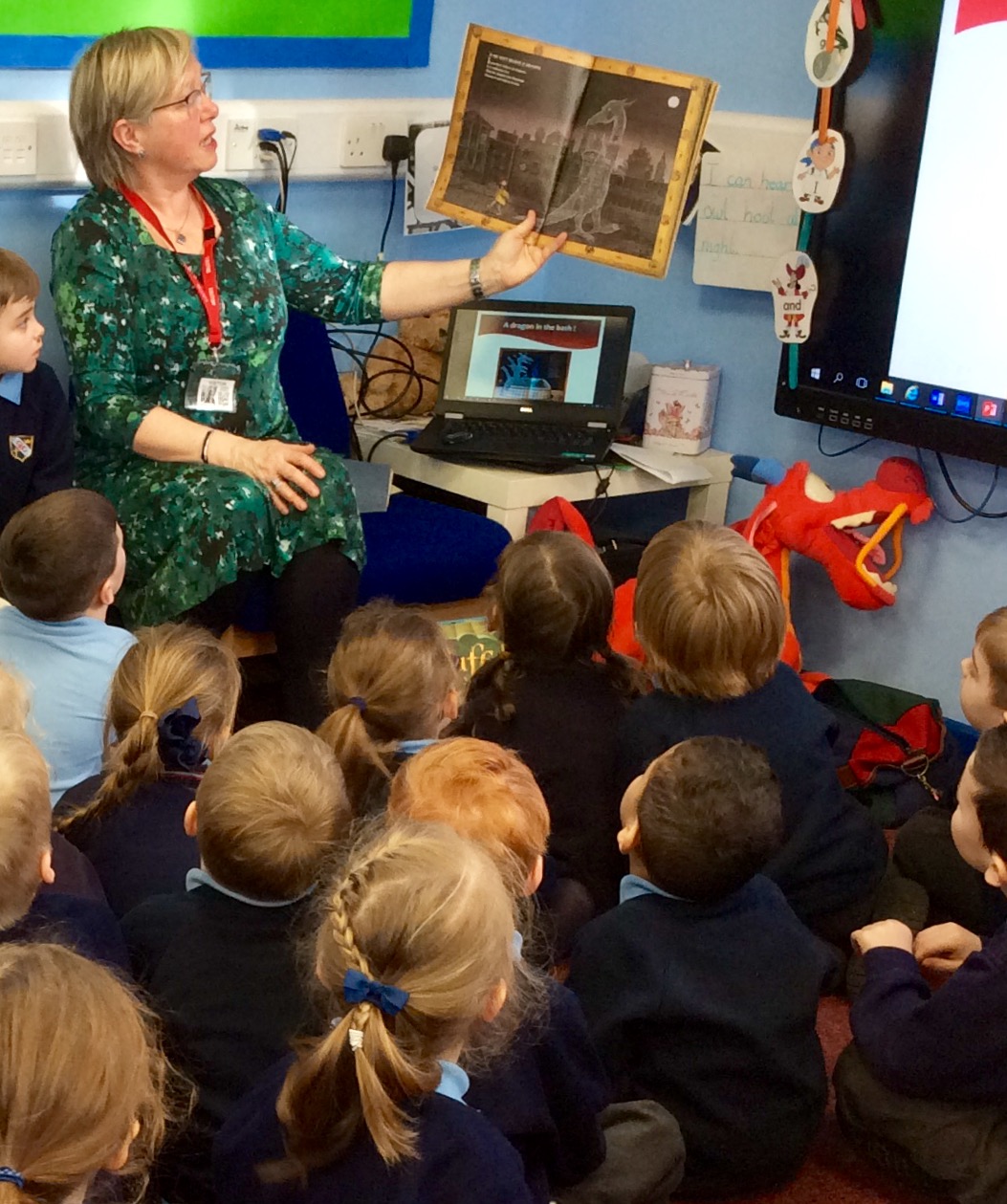 posted on 01 Mar 2017
Three dragons plus plenty of books
I very much enjoyed meeting with the nursery and reception classes at Our Lady of Compassion school in Olton the other day. One of their teachers had asked me to talk about books to fit with their half termly theme of dragons and when I was making my selection to take along, I was struck with just how many examples there are to choose from. It seems to be one of those eternal themes in books for children of all ages which I find very reassuring. Of course there is also a huge variety ranging from the fierce and menacing dragons of more traditional myth and legend through to much cuddlier multi coloured domesticated versions. As ever, I found it quite difficult to choose ones that would reflect both the wide range of illustrative styles and that would  also fit into my bag, particularly as I also had to fit in a huge toy dragon named Dahlia that I had borrowed from my grand daughter.
The nursery children were ready and waiting and were suitably impressed with Dahlia who helped me keep control as she was very shy and extremely nervous of loud noises. I also introduced Dwayne who was a bouncy dragon on a spring who also played his part in focussing attention and then we started to look at some of the lovely books. This group seemed to be most impressed with A Dragon on the Doorstep by Stella Blackstone, illustrated by Debbie Harper, in which the vividly spotted pink dragon is rather incidental to a story about animals playing hide and seek. They also liked Zog and the Flying Doctors by Julia Donaldson, illustrated by Axel Scheffler, possibly because they are already familiar with this author and illustrator. We also enjoyed looking at some of the paintings in Puff the Magic Dragon by Peter Yarrow and Jenny Lipton, illustrated by Eric Puybaret and had a go at singing the chorus of the song together( happy memories of my childhood). I then revealed a letter from Dennis Dragon who happens to live  near me in the Malvern Hills. He requested some dragon drawings to decorate his home and the three and four year olds were entranced with the scorched paper that resulted from his being careless with the flames from his mouth as he wrote.
I did a very similar session with the reception class children, but this time spent some time looking at some of the gorgeous water colour illustrations in Tell Me A Dragon by Jackie Morris. They also enjoyed some poems from The Dragons Are Singing Tonight collection by Jack Prelutsky, illustrated by Peter Sis. As these children were a bit older I risked reading the whole of the rather long but wonderful The Dragon of an Ordinary Family by Margaret Mahy, illustrated by Helen Oxenbury which they really enjoyed 
I was very pleased with the enthusiastic responses and deep concentration throughout from both groups of children. I was also delighted with their special disco style thank you which the reception classes sang with actions for me at the end. Dennis and I look forward to receiving their drawings.
Karen Argent
February 2017