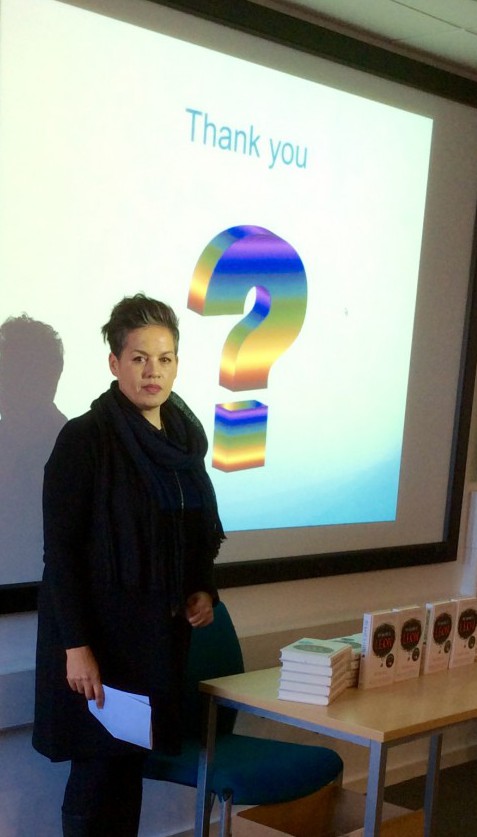 posted on 14 Feb 2017
Kit De Waal at Newman University, 13th February 2017
Speaking to students and staff representing a number of different degree programmes at Newman University, the author of the splendid Costa-prize nominated novel, My Name Is Leon, kept her audience fascinated by the story of her journey from working class poverty in Birmingham to best-selling novelist.
During the course of her talk she traced the development of her identity which had been shaped by her mixed heritage background and a staggering number of diverse jobs that took her, over the best part of 35 years, from waitress to magistrate and ultimately to her role as a writer.
De Waal's open and engaging personality kept a full lecture theatre rapt as she explained the way her extraordinary list of past jobs informed the way she now sees the world and the choices she has made about her own family. It is through reflecting on her own story that she learned how to become a writer with an entirely authentic voice – something she admits she struggled to discover initially. I suspect her initial efforts to write a sort of street gangster fiction might well be experiments that she was wise to abandon!
When she found the voice of Leon she knew that this was the way she needed to write – she was able to enter his world and adopt his point of view in a way that seemed to her entirely natural. The success of My Name Is Leon – there was a lively auction of her manuscript between publishers – has enabled her to establish a creative writing scholarship for excluded or disadvantaged writers. De Waal isn't someone who is likely to forget where she came from or the sacrifices she has made to carve out the success she currently enjoys and, admirably, she's determined to share her good fortune and her knowledge.
After speaking for 40 minutes the students had plenty of questions for her and she was happy to take on even some of the most personal and probing enquiries. Copies of her book sold like the proverbial hot cakes when she had finished and a lively and enthusiastic signing session followed.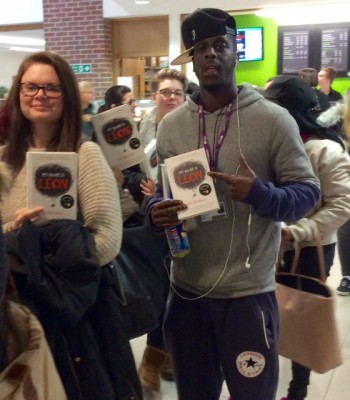 Two spontaneous rounds of applause are a good indicator that the audience appreciated Kit taking time out to come and speak with them – these are the sort of experiences university life can sometimes offer and which can genuinely inspire students who may sometimes be wondering whether academia was the right choice  for them.
Terry Potter
February 2017