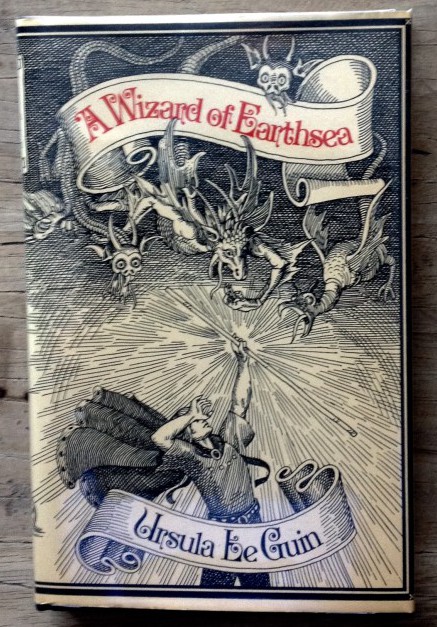 posted on 16 Oct 2016
David Smee and the Earthsea book jackets
When you are a confronted with the task of producing book jacket illustrations for one of the great fantasy classic series of the 20th century, what direction can you take that will capture what is essentially uncapturable? I suppose there are a couple of options: you can go for something abstract and other-worldly or you can go full tilt for creating a fully imagined figurative depiction. When it came to producing covers for the first three instalments of Ursula Le Guin's  Earthsea series, David Smee chose to go with the latter.
Smee was born in 1937 and studied at the Cambridge School of Art. He made a career in advertising and sign-writing until he won a poster competition in the early 1960s which encouraged him to go freelance. He was soon in demand for book cover illustration – especially in the field of science fiction and fantasy.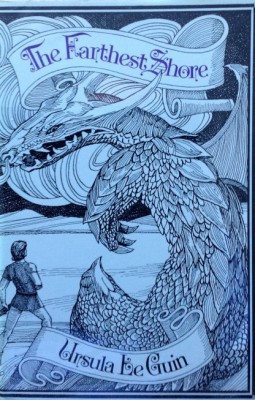 At the beginning of the 1970s, the publishing house Gollancz approached Smee to do a jacket for Le Guin's A Wizard of Earthsea which had been first released in the US in 1968 and had almost immediately become a cult classic. It's clear to see from what he submitted that Smee is a huge admirer of the author and illustrator Mervyn Peake and that he learned a lot from the illustrations that had been produced for the Gormenghast trilogy. I think I can also see the almost inevitable influence of Tolkein and his drawings for The Hobbit.
 The elaborate almost neo-Gothic style that Smee uses is also, I think, reminiscent of the later and even more extravagant illustrations of Roger Dean – especially the artwork he produced for the series of albums by the progressive rock group, Yes, in the early to mid-1970s. Two more instalments of the Earthsea series followed in successive years and Mee's jackets tie them all together perfectly.
For me the work of David Smee has become entirely synonymous with Le Guin's series and when I see them on my bookshelves I know they have been with me for more the four decades. They are old friends and do everything a good book jacket should do – what more can you ask?
Terry Potter
October 2016