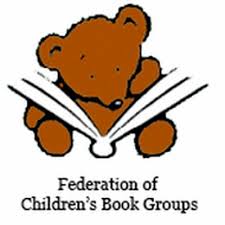 posted on 08 Apr 2016
Federation of Children's Book Groups Annual Conference 2016
I spent a lovely couple of days last weekend at the Telford Campus at the University of Wolverhampton which hosted this year's FCBG conference, focussed on the broad theme of Growing Readers and Building Connections. The other delegates that I met were a mix of librarians, teachers, publishers, authors and parents, all with the common enthusiasm for children's books and to encourage them to join book groups as part of this.
The conference was densely packed with presentations given by many well- known authors who all reflected on the theme about how their own early experiences of reading had helped to shape them as writers. In this review, I'm just going to write about the first three that I was lucky enough to see in order to give a flavour of the very high quality of the programme on offer.
The Friday evening speaker was Katherine Rundell who was a good choice to wake people up from their after dinner lethargy. From the outset she was passionate and visibly excited about her role as an author. She is now a confident and very well regarded writer of Young Adult fiction who teaches about Shakespeare at All Souls College, Oxford as her day job. However, she has not always been keen to communicate with others and revealed that she had actually been a cripplingly shy child who had always wanted to be able to distance herself from others and to watch from afar- clear inspiration for her award winning novel Rooftoppers , a story which is about children who literally live above the everyday world. She talked about the need for children's books to have 'plots that grab them and pull them along' and that were also authentic with 'real detail based on experience'. This means that she tries to do research for her stories that includes travelling to far off regions because 'No matter the wildest thing you come up with -there will always be something more wonderful in the real world'.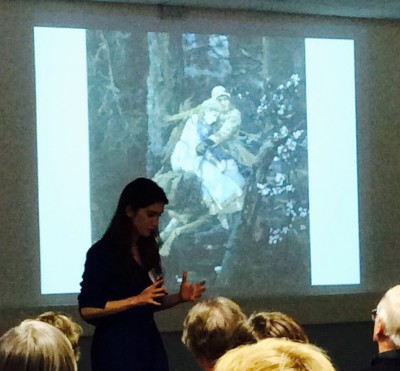 She explained how her love of ballet as a child, and the consequent need to be careful about her weight had meant that she was very obsessed with descriptions of food in books – for example, Heidi and definitely all the Roald Dahl books. As a result of this – all her books include plenty of detailed descriptions of food. She ended her slot with sharing a moving personal memory about how books had been her salvation when as a ten year old child she was trying to make sense of her sister's long terminal illness. She concluded that reading about sharp, fierce and witty characters had taught her that love, courage and patience have value – and that it was important that children's books should teach children how to be tough, funny and bold
Saturday morning started with the very sparky double act of Phil Earle and Curtis Jobling who were interviewed by Zoe Toft. These two prolific children's writers are clearly firm friends and were introduced as both being hugely inspired by Danny the Champion of the World by Roald Dahl. But they have evolved very different writing style due to a range of other influences.
Curtis Jobling is apparently known in book circles as 'The Bob Father' because he created the original character of Bob the Builder. He reminisced about the importance of reading comics as a child, avidly playing the role playing game of Dungeons and Dragons as a young teenager and his background working in animation as all being enduring influences on his writing style. He remembered that his mother had always encouraged him to use his imagination and he cherished memories of playing long complicated games with his action men toys in the apple trees in his garden. He also remembered 'falling in love' with The Hobbit when he found it in Warrington Library as a child and explained that he didn't need to watch the film version 'because I visited the Shire when I was 8 years old'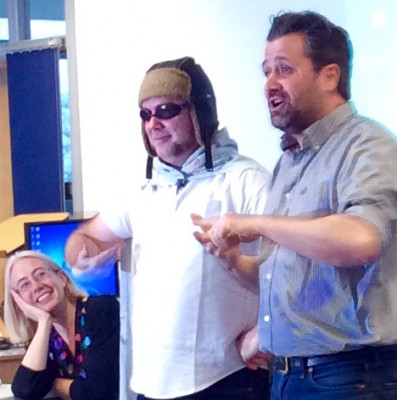 Phil Earle told the audience that he had actively hated books as a child and was much more interested in sport at school. He had been particularly intimidated by big books and only really came love printed stories through reading comics and only significantly 'grew as a reader' much later at the age of 26 when he discovered graphic novels like Maus which he explained 'still represent a purity of storytelling carved out of stone'. He also talked about his love of theatre and how this was another important influence on his writing style.
Unlike Curtis, he argued that well directed films were still very important to him because they helped him to frame a story and that anything that starts children (and adults) talking about stories is important in their development as readers. His evident passion for 'lighting a fire' in children means that he really loves school visits where he can show off and also demonstrate that they all have potential storytelling skills based on inspiration from everyday life events. He provided a very entertaining insight of how he does this by using Curtis as a willing assistant who declared himself to be 'Parallel Parking Man' and thus transformed himself from being ordinary into something remarkable through the use of imagination.
I hope that this review of sessions given by just three of the many wonderful authors has given a glimpse of the tangible enthusiasm that flowed through this conference. It is always nice to be amongst like- minded people who really love books and actually want to spend a weekend talking about why they are so important. I left for home on Saturday afternoon feeling quite exhausted: mentally stimulated but reassured that the future of children's books was safe.
See the link below if you would like to find out more about the FCBG and perhaps I will see some of you there at next year's conference.
Karen Argent
7th April 2016