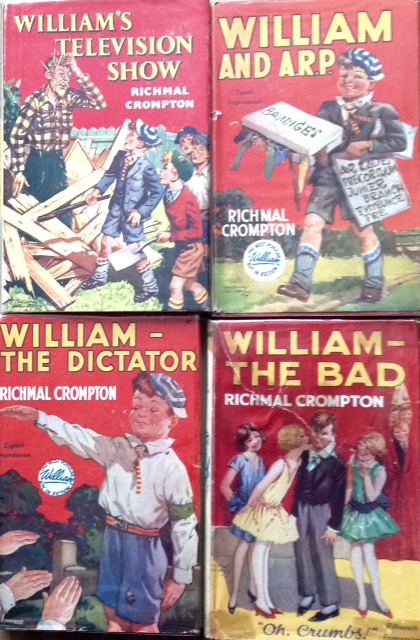 posted on 14 Feb 2016
Thomas Henry
The William series of books by Richmal Crompton continue to have appeal to today's younger readers despite the fact that the stories are locked forever in pre and post-war  years of the 20th century. It's obvious that a good part of what makes William and his friends so engaging is the way that Crompton managed to capture something about the anarchic nature of childhood while never losing site of the essential decency and good nature of the youngsters she created.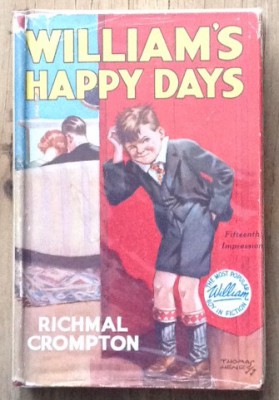 William comes from a lower middle class suburban England in which there is order and security to be found in the nuclear family and William's perpetual identity is underpinned by his school uniform that inclues a cap, tie and short trousers. There is never any ambiguity - William and his friends are children however much they want to interfere in the business of the adult world. Crompton's success is to create humour out of the way these middle class values are gently and good naturedly subverted and held up to mild ridicule.
The first editions of the William ​books are surprisingly valuable and sought after by adult collectors. Clearly they are after a good dose of nostalgia - the success of Martin Jarvis radio readings of the books atests to that -  but it's not just the stories that account for the appeal. Crucial to the success of the original books was the artwork, especially the book jacket artwork, of the illustrator Thomas Henry (1879 - 1962).
Henry was trained as an illustrator at the Nottingham School of Art and went on to work for a number of monthly magazines, including Punch and The Strand. Henry created William for a magazine audience in the first place but went on to illustrate 33 of Crompton's books - both covers and black and white  drawings that decorated the internal pages.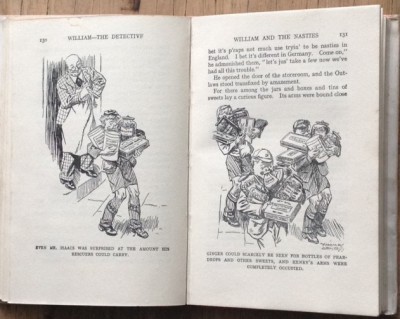 It was essentially the book jackets that became iconic and which are now the prized componant of any first edition - a good, clean jacket being worth more than the book itself. And it's easy to understand why. Colourful and comic they seem to capture the essence of William's character and have an almost seaside postcard feel about them - as if Donald McGill had taken up children's book illustration. One look at a Thomas Henry  jacket would enable anyone to immediately locate William as a product of the southern English suburbs and the manners and morality of his class.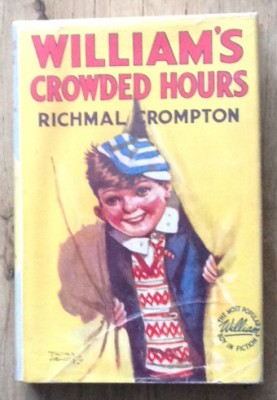 I didn't grow up reading William and I came from a very different background but even as an outsider from Crompton's world the book jacket art was something I immediately recognised and understood when I first came across it as an older teenager. I still love the book jackets but I have to confess that I'm unlikely to ever read the books again.
Terry Potter
February 2016