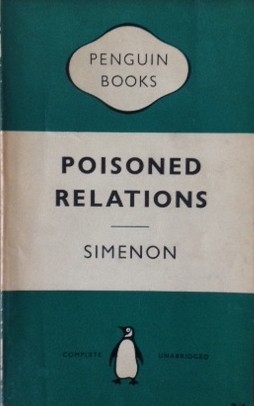 posted on 12 Jan 2022
Poisoned Relations by Georges Simenon
I would imagine that majority of general readers will associate the name of Simenon with his most famous crime creation, Inspector Maigret – films and television adaptations have helped make him a popular character right up to the present day. But Simenon was a much more versatile and skilled writer than this, admittedly addictive, series of detective novels would suggest.
Poisoned Relations is a good example of Simenon's range and, although short of length, it's cloying, oppressive atmosphere will stay with you long after you've finished reading. This edition comes in the Penguin green livery that signifies their crime fiction list but, with the exception of a suggestion that one of the family may be systematically poisoning the rest, this isn't by any stretch of the imagination a straightforward whodunit.
The book is really a dense and gloomy mediation on family life – the destructive, dark side of family life – and there is very little light to be found here. At the centre of the story are two sisters, Mathilde and Poldine who live together in a state of constant mutual hatred – a hatred fuelled by Mathilde's knowledge of her husband's fleeting affair with her sister. The increasingly rancorous atmosphere has crushed the husband who hides away at the top of the house and has spilled over to the children who respond to the poisonous atmosphere of the house in different ways. The older boy frets for his freedom but is reluctant to leave behind his sister, Genevieve who seems to have decided to become an invalid, slowly slipping away to a smug, wasted death.
Is one of this cast involved in trying to use arsenic to slowly poison everyone? All of them seem to have a motive but, in truth, it's not the chemical poison that's the destructive force here but the poison that runs in the veins of all the family members who find communication impossible and all select different ways of keeping the darkness dominant.
Even tragedy is transient here. Genevieve's insistence that her fate is to die at a set time in a set place and the husband's desperate suicide fail to pull aside the curtain and let light in.
What Simenon has offered us here is the flip side of the cliché of the life-affirming nature of family life and shown the poisonous potential of ties that suffocate and contaminate. He does this with extraordinary economy and with a sort of compelling fascination that keeps you turning pages even though you know that what you need is fresh air. All of the characters here could choose a different destiny but none of them do and the tragedy is that none of them do. Even the son who wants to escape returns to the house with his wife to resume and recycle the misery.
Copies of this book can be found in paperback for not too much money but the hardbacks are more expensive as Simenon's reputation has been steadily rising in recent years.
Terry Potter
January 2022