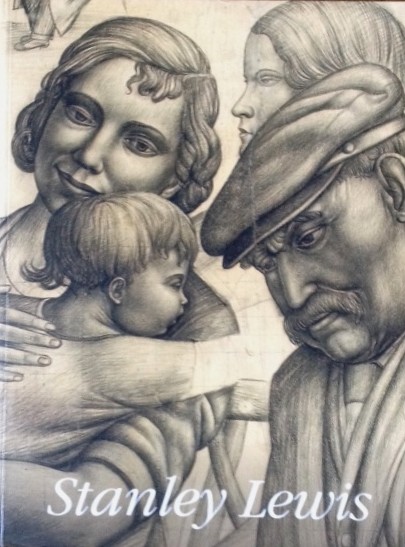 posted on 23 Dec 2021
Stanley Lewis by Sacha Llewellyn, Paul Liss, Alan Powers and Jennifer Heywood
Discovering artists that you've never heard of before is always a treat. It's hardly surprising that I hadn't come across Stanley Lewis (1905 – 2009) before because he seems to have deliberately shunned public attention, refusing to sell most of his work and only later in life agreeing to donate some to museums.
This particular book is in fact a 'catalogue' for the first ever, posthumous, exhibition of his work at the Cecil Higgins Art Gallery & Bedford Museum in 2010 and was published by Liss Fine Art who were given the opportunity to sell some of the more minor works.
Lewis preferred to earn a living as a teacher – first at Newport School of Art and later at Carmarthen School of Art where he became the Principal. As Sacha Llewellyn and Paul Liss note in their Foreword to the book:
"His work is highly distinctive and he remained faithful throughout his life to a graphic and stylised manner developed early in his career. Perhaps the most enduring aspect of his legacy is the remarkable cycle of paintings exhibited at the Royal Academy celebrating Welsh subjects….There is arguably no other series of genre paintings in British art which captures so evocatively Welsh identity."
Lewis moved away from painting in his later years, choosing instead to rework older drawings but to focus increasingly on book illustrations that were eventually published under the title 'Adventures in Animal Town' –  and despite his advanced years, using computer graphics to aid his work.
This substantial and definitive catalogue runs to over 160 pages and showcases all of his most important work. There is also an excellent overview essay of Lewis' career by Alan Powers who locates the artist in his artistic heritage. Lewis' painting was not influenced by the Modernist tendency that was so dominant in the Twenties and Thirties, instead he found himself taking a more traditional route:
"By 1900, instead of opening their doors to modernism, the teaching institutions of British art were largely heading in the opposite direction, with a new sense of dedication inspired by the reinvigorated practice of drawing at the Slade."
There are, of course, plenty of echoes here of Lewis' more famous contemporaries in his painting – Ravilious, Bawden and Stanley Spencer come to mind and the influence of people like Augustus John and Eric Gill are also clearly part of the recipe.
I don't think Lewis is in the top rank – more a top of the second division artist for the most part – but there are clearly times when he elevates himself above the rather stiff realism that drags down so much of what he does. When his work takes flight it is capable of capturing something essential about British (and specifically Welsh) life.
I'm not a great fan of his book illustration work to be honest. Colourised, essentially whimsical drawings of anthropomorphised animals have never been my cup of tea and I would always go back to the bigger studies of individuals or mural-style canvasses depicting social life because it seems to me that this is where he excelled.
Clearly Lewis deserves to better known and more widely appreciated and I'm surprised that his name hasn't joined the ranks of the British tradition of mid-century artists who are now recognised as a vital strand of art history in their own right. I am sure, though, his time will come.
Terry Potter
December 2021