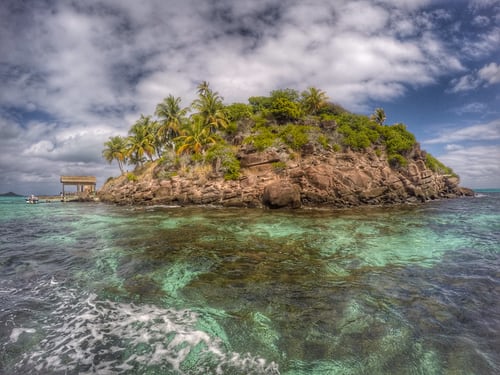 posted on 19 Dec 2020
Desert Island Books
During the various lockdowns of 2020 I've found myself listening to (far too much) Radio 4 Extra which is effectively a  station dedicated to the constant rebroadcasting of old archive drama, humour and light entertainment from past Radio Four programmes stretching back over 50 years. One of the staples of the schedule is Desert Island Discs in which public figures are encouraged to share their eight favourite music recordings to take with them to solitary confinement on the eponymous island. At the end they also get given a copy of Shakespeare, The Bible and a choice of one other book (although I'd happily swap The Bible for an additional choice of my own).
I have often thought that this might be a great programme if they reversed the choices – eight books and one piece of music. However, whenever I start to think about being forced into my choice of eight books I find myself shying away from the task – it's all too complicated to narrow down all those books I've loved and that have helped shape the man I am today. And, what will sustain me in my captive isolation?
But it's a challenge I keep coming back to and so I've decided to get eight books down on paper – and then regret my choices at my leisure. So, here we go:
George Orwell           The Collected Essays and Journalism
James Joyce              Ulysses
Dylan Thomas           The Collected Poems
Samuel Beckett          Waiting for Godot
Bertrand Russell         The History of Western Philosophy
Maya Angelou            I Know Why The Caged Bird Sings
F.Scott Fitzgerald       The Great Gatsby
Stella Gibbons            Cold Comfort Farm
I should say that I have not included anyone writing in a language other than English because of the issues of translation – if I can't read them in the original I've decided to leave them out.
I have also tried to think about spread and balance of moods, nostalgia, emotional importance to me and reading I know I can return to time and time again.
But it's not meant to be 'representative' of my reading as a whole and nor is it an attempt to construct a list that is 'right on' or, in that terrible phrase, 'politically correct'. It remains the case that there are literally hundreds of books I've left out that should be there……..
So what about music? I love jazz and I love some classical music but in the end I'm a words person. So for me there can only be one choice – Bob Dylan. It helps of course that he has recently been awarded the Nobel Prize for literature and so he'll sit nicely within the literary ambiance of this little game. Can I, I wonder, have his complete recording up to and including Blood on the Tracks, or am I breaking the rules? If I'm going to be restricted to one album only, it's going to have to be Highway 61 Revisited.
So there. I've done it and I'm already having doubts. But, hell, I can revisit it whenever I want can't I? But now it's over to you. What does your list look like?  I've thrown down the gauntlet: have you got the chutzpah to pick it up?
Terry Potter
December 2020