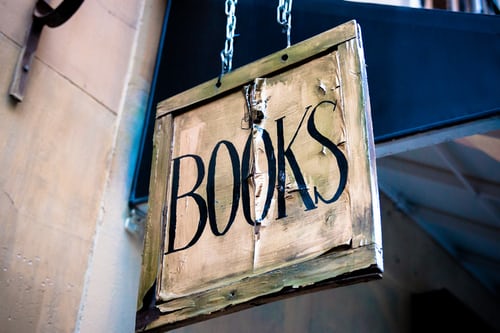 posted on 28 Mar 2020
St. Michael's Hospice Leominster Coffee and Books
Although we've been visiting Leominster for several years and we've seen book shops come and go, we've only just found St. Michael's Hospice Leominster Coffee and Books. It's a little out of town next to the train station in an externally unprepossessing industrial unit so typical of retail parks.
But go inside and it's all different. You enter the book rooms through the coffee and cake shop which was humming with customers on both occasions when we were there. In fact a lot of people seemed to be regulars that the volunteers working there knew pretty well. So that speaks well for the community feel of the place – another oddity given the location.
The bookshop itself is big and airy and very well organised in subjects. You're not likely to find anything startling here – the mix of books is very much what you'd find in most charity shops. There are however some specialist, more collectible books in the glass fronted free standing cupboards around the edges of  the rooms.
The shop deserves a special mention for the space it gives to children's books and for shelving them with a degree of sympathy. I've lost track of the number charity shops who throw children's books into baskets or boxes that are impossible to browse through – but you won't find that here. It's all very well set out with fact and fiction kept separate, picture books and story books with their own sections and all at a child-friendly level which is still accessible to adults.
You'll be able to spend a pleasant hour or so browsing here – longer if the cake takes your fancy.
Terry Potter
March 2020