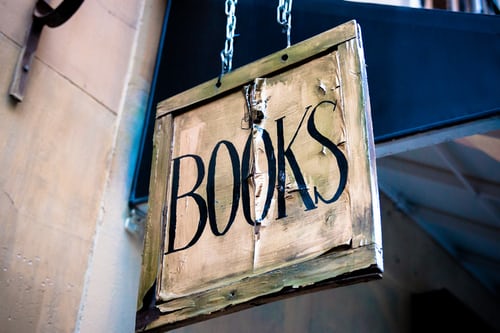 posted on 20 Sep 2019
The Last Bookshop, Oxford
Oxford's a funny old place when it comes to bookshops. It's true that there are plenty of books around – it is, after all, the home of the legendary Blackwell's and Waterstones has a pretty commanding position in the town too. But when it comes to second hand shops, they've become thin on the ground. That may be a reflection of rents and rates in what has become one of the most expensive places to live outside London but, whatever, the reason you don't go there for a day trawling characterful second-hand shops.
However, The Last Bookshop which is sited in the trendy Jericho district behind the Ashmolean Museum is perhaps the one second hand shop that might merit the label 'traditional' – at least in the way it presents itself if not entirely so in terms of stock. I say that because the shop relies on an interesting mix of new, remaindered stock and the more usual second hand fare.
What struck me as interesting about this was that, by some distance, the more interesting stuff was the newly remaindered books rather than the second hand. In fact I'd go as far as saying that, on the day we visited, there was pretty much nothing I'd have classed as 'collectible' in the second hand sections although we did come away with some splendid remainders at extraordinarily good prices.
With its café tables outside and classic frontage, The Last Bookshop is a must visit – if nothing else, it's a nostalgic experience for those who yearn for the old days of the second hand bookshop that could be found almost everywhere. Even when you know you're unlikely to find a gem, shops like this always seem to dangle the promise of a jewel and it makes them impossible to resist.
Mark it down on your list for a visit the next time you're in Oxford and I'll bet it becomes a regular on your itinerary.
Terry Potter
September 2019