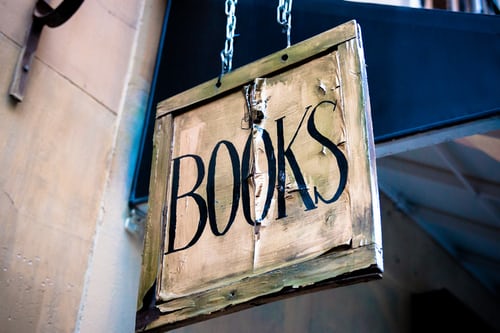 posted on 27 Aug 2019
Kenilworth Books
This is somewhere that we have been meaning to visit for a long time as I have been following the shop on Facebook and always been very impressed with the magnificent and frequently changing window displays. They also offer plenty of free home baked goodies which are advertised to raise money for a local hedgehog charity - my kind of people! They do lots of sterling work with local schools and frequently host events with authors and illustrators.
It is located just off the busy High Street in a small square that has charity shops and cafes. As expected, the current window display was amazing with books related to environmental issues including a clear written statement of the owners commitment to reducing plastic also on display.
The atmosphere was warm, light and welcoming with a good balance of general adult fiction and non fiction at the front of the shop. There were several other customers intently browsing the shelves and a friendly face at the counter behind a plate of delicious looking fudge, which I of course needed to try. Opposite us was a tempting display of signed books, all usefully facing out, and behind this was a spacious children's section with lots of interesting stock to investigate. I was pleased to note that there were two different parents reading aloud to their young children - almost competing for my attention! Whether this is unusual, I'm not sure, but it certainly helped to give the impression that this is a well used bookshop.
We will definitely be returning again to this pleasant little shop in this charming, rather old fashioned Warwickshire town.
Karen Argent
August 2019