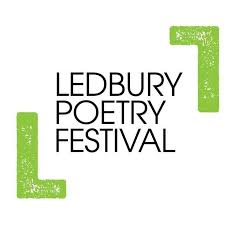 posted on 15 Jul 2019
A weekend at the Ledbury Poetry Festival
For most of the year Ledbury, tucked away on the Herefordshire side of the Malvern Hills, is the quintessential English market town – quaint, a bit sleepy and at its best when the sun is shining. For me, it's a about a twenty minute drive to pay it a visit and I do try to get there on a reasonably frequent basis because, oddly enough for such a small town, it has two independent book shops – one of which is very good indeed (you can read my review of it here).
However, once a year it brushes off its top hat and tails and plays host to an increasingly impressive poetry festival. When we first moved to Worcestershire over a decade ago, the festival was quite a parochial affair but year on year it's grown to be more impressive and can now boast a top billing as a genuinely international event that draws some of the very biggest names in the world of poetry to perform there.
We thought that the final weekend this year was especially good and bagged tickets for three events over the Saturday and Sunday (13th and 14th July). First up was novelist and poetry aficionado, Ali Smith. If you've never heard Ali Smith talking about her books or her love for poetry, you've missed a real treat. She's smart, funny, passionate about literature and entirely at ease with an audience and has the magical ability to make time fly by unnoticed. Although not a poet herself, she has compiled anthologies and has a deep love of the art form and her one hour session was designed to introduce us to her particular favourites. She did this through the cunning wheeze of 'poetry bingo' – getting the audience to shout out a number between 1 – 25 and reading whichever poem she's secretly allocated to that number. Great fun.
Later on the Saturday evening was the real big-hitter for the festival -  Margaret Atwood.  Personal networks are great things and getting Atwood to Ledbury was the result of the fact that one of the festivals long-term patrons, Ursula Owen was also one of the author's publishers at Virago Press. Atwood has a sizable body of published poetry and it must have been quite a change for her to be able to focus on this rather than on still more about The Handmaid's Tale. I don't personally think Atwood is especially adept at public poetry reading (it is very much a special skill) and quite a number of the, as yet unpublished, poems she chose to read rather slipped past me. But the chemistry between Atwood and Owen, who chaired the session, was warm and friendly and that spilled over into the audience.
There's nothing to beat a bit of lucky timing and this year Sunday's event with Simon Armitage was already in the schedule before he became the latest Poet Laureate. Armitage has been to Ledbury on a couple of other occasions and so could be considered a regular but of course his new status meant he was guaranteed a full house despite the fact that there was a cavalcade of big sporting events taking place at exactly the time set for his appearance. Having said that Margaret Atwood perhaps doesn't have the best skills when it comes to public poetry readings, the opposite is true for Armitage. He's got the whole thing down to a very fine art and his is really a performance with poetry thrown in for good measure.
All three of these big names were more than happy to spend some time at the end signing books and chatting to people – the Ledbury Festival is that kind of event – and the slightly shambolic arrangements for the book signings were a rather reassuring contrast to the almost industrial slickness of the big literary festivals elsewhere.
Oh, yes. It didn't rain all weekend either.
Terry Potter
July 2019