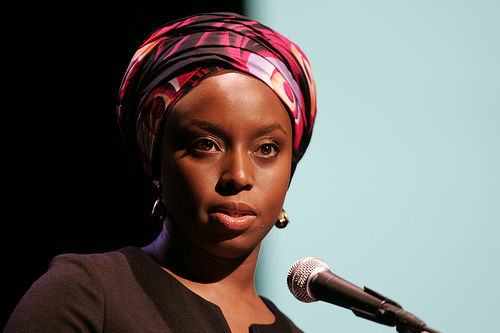 posted on 18 Oct 2018
A Second Helping Of The Cheltenham Literary Festival
Following on from the rather hectic first weekend, for us rest of the festival was somewhat more sedate. That's not to say, however, less thrilling. In fact, the highlight of the whole ten days was the appearance of Chimamanda Ngozi Adichie on the Wednesday evening on the Baillie Gifford Stage at the Town Hall. Adichie was making a rare visit to the UK to collect the PEN Pinter prize and was being interviewed at this event by Ellah Wakatama Allfrey. Allfrey turned out to be a good, sympathetic interviewer who led Adichie into some fascinating reflections on her novels, the nature of her feminism, Trump's America (she splits her time between the US and Nigeria) and her love of fashion.
Adichie is an admirably straight talker, clear and honest about her views and is genuinely charismatic – she had the audience entirely in thrall. Oddly enough, the event was lifted to another level by two things – a completely asinine first question from the audience and the participation of two young black women in the audience who were brave, confident and outspoken. At the signing session afterwards it was great to see so many young fans of her work treating her more like a rock star than a stuffy old writer. Superb.
On the final weekend there was the rare chance to see the legendary Helen Oxenbury  promoting her new autobiography – it's one of those big glossy coffee-table-sized overviews of her career – and talking about her illustrations, her marriage to John Burningham and generally being rather roguish and playful with her interviewer. Alex O'Connell, who is arts editor of The Times, took it all in good part and coaxed some interesting answers from her.
My final event was Beyond Murakami: Japanese Literature Today which was a panel discussion between Ian Buruma (who sort of chaired it), Ted Goosen (Murakami's recent translator) and author, Masatsugu Ono where they considered the impact of Murakami on the most recent generation of Japanese writers. Erudite stuff and really one for the purists but given that I'm very keen on Japanese fiction at the moment, it was a great chance to note some up and coming names to check out.
I did consider going along to the final Sunday to catch Chris Riddell and make sure I hadn't missed any signed copies of stuff I ought to have but I woke to find the rain coming down in stair-rods and so I decided I'd probably had enough of a good thing for this year.
Now I can start looking forward to next year's offerings.
Terry Potter
October 2018