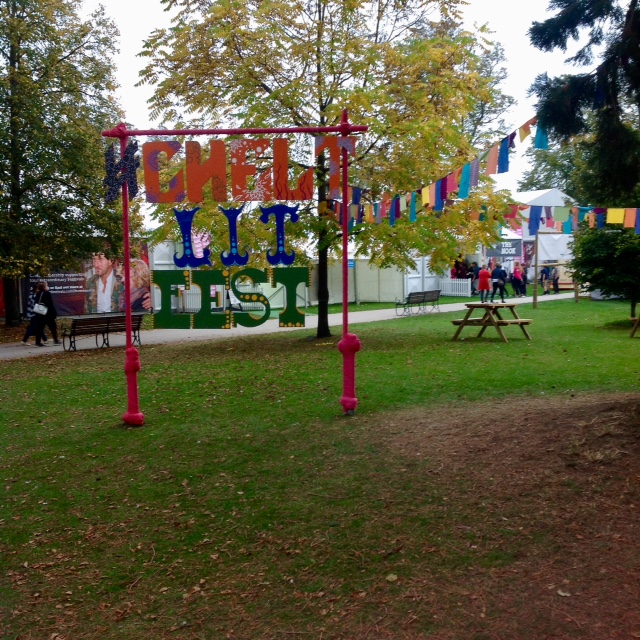 posted on 10 Oct 2018
A Weekend At The Cheltenham Book Festival
Every year we look forward to the Cheltenham Literary Festival but in recent times we've been a bit disappointed to discover that the organisers have put a greater emphasis on television personalities and celebrities than on substantial literary figures. Despite that, we usually find something to go along and see but it's often the odd titbit rather than a delicious banquet.
The 2018 festival however has rather bucked this trend and we found ourselves booking enough events on the first weekend to merit a stay-over in Cheltenham rather than shuttling backwards and forwards. It was a great decision because it took the pressure off and meant we could grab an hour or two of rest and relaxation rather than prowling the town killing time between events.
We kicked off on Friday 5th with The Many Fictions of William Boyd  which was an hour and three-quarters of Boyd doing a stand-up performance – a mix of rumination on his most recent book, reference to his earlier works and some captivating anecdotes about his first French agent and publisher who turned out to be something of a rogue. But the highlight was Boyd's unravelling of his now infamous Nat Tate hoax – which also involved David Bowie and Jeff Koons.
 Given that the usual event format involves an hour of one-on-one interviewing with a bit of a reading thrown in, this one was a whole new experience. And very enjoyable it was too. Boyd is a good performer, very amiable and personable which made for good company and an excellent start to the weekend.
The special theme of this year's festival is 'East-West' – primarily with a focus on contemporary Japanese authors with the occasional Chinese writer thrown in for good measure. This was opportune for me because I'm personally just in the process of discovering the joys of Japanese fiction in translation. As Saturday started, my first event was Manga film producer, Genki Kawamura whose first novel, If Cats Disappeared From The World, has sold over a million copies in Japan and which explores the intriguing question of what you would do if you were offered an extra day of life in exchange for something disappearing from the world forever. Although Genki's English was limited and he needed an interpreter, this was done so seamlessly that it didn't get in the way of the enjoyment of what he had to tell us.
Next on was Kate Atkinson who was being interviewed by the author, Sam Baker. Kate was primarily talking about her new novel, Transcription, but inevitably she was also taken into a wider discussion of her other books. I was fascinated by what was a quite serious discussion ( by which I don't mean po-faced but thoughtful) about the nature of novel writing and the decisions that have to be made by an author. When one novelist interviews another you tend to get a really insightful set of questions and an equally well constructed set of answers. Excellent stuff.
Next up was Brought Up By Books: Favourite Childhood Reads which featured a sort of panel discussion between Lucy Mangan, Anna James, Jake Hope and Andrew Clover. What was the role of children's books in your life? Did you have a favourite you'd recommend or maybe your old favourite isn't relevant anymore? This was a good-natured canter around some old favourites and if you've read Lucy Mangan's Bookworm you'll have a good flavour of how the hour went.
To round off a busy Saturday, it was on to another East-West event that featured authors David Mitchell (of Cloud Atlas fame) and David Peace (The Damned United and GB84) both of who have written about Japanese-related issues. In fact, David Peace now lives in Japan and teaches at Tokyo University and Mitchell translates Japanese originals with the help of his wife. Although the two Davids are very different personalities, they are good friends and the discussion of the influence of Japan on their work was fascinating and informative.
A long, rather damp day but a very successful one. No duds!
Sunday kicked off at 10.00am with Once Upon A Time: Enchanting Stories featuring a slightly odd pairing of Sally Gardner and Jessie Burton. Both authors were very entertaining about their latest projects but, looking back at it, I can't quite see what the commonalities were supposed to be and what the theme of the session was meant to be. Luckily the two authors had enough personality to make the lack of a cohesive theme neither here nor there and I personally found Burton's insights into writing her first children's book – The Restless Girls - and Gardner's ruminations on how a book idea can sit dormant for 27 years before springing to life, the most interesting parts of this particular hour.
Pat Barker being interviewed by Mary Beard was probably the heavyweight event of the weekend with an extended discussion about Barker's new book, The Silence of the Girls. I found the discussion of the merits of Homer's The Iliad very valuable because I'm pitifully lacking in a knowledge of the Classics. The the idea of the myth of the Trojan Wars being seen from the perspective of the women who were traded as trophies is such an interesting one that the possibilities it raises as a story device are fascinating (see here for a review of the book elsewhere on this site). Having said that, I suspect that the comment made by Pat Barker that will have real news value is her belief that modern fiction has lost its way and is no longer relevant or vital to the lives of readers – a view, I have to say, that I completely disagree with. Maybe she was just feeling a bit dyspeptic……
You can pretty much rely on  Michael Morpurgo to lift your mood and he was in fine form in the next event we went to. He was, supposedly, in conversation with his editor but to be honest he pretty much took it over and turned it into a performance. He has an easy, non-patronising way of talking directly to the children in his audience and he had them spellbound for most of the hour. Rather bravely, he ended his session with a song - the song that begins and ends the theatre production of War Horse - and much to his credit he completely pulled it off.
And Sunday came to an end for us with another panel discussion entitled A Celebration of Haruki Murakami featuring the David's Peace and Mitchell, Murakami's translator Ted Goosen and novelist and bookseller, Evie Wyld – all chaired by Georgina Godwin. Each participant selected a favourite extract from Murakami's work which was read expertly by the actor, Julian Rhind-Tutt. The session concluded with a final reading from Murakami's new book, Killing Commendatore – which was made available to the Cheltenham audience two days before its official UK publication date. Joy.
Back to the hotel…….home the next day……..but back again later in the week…..
Terry Potter
October 2018