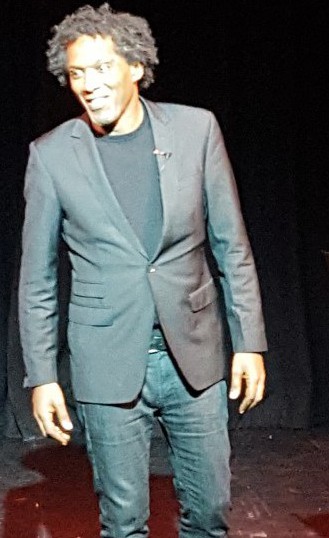 posted on 25 Oct 2017
Lemn Sissay at MAC, Birmingham (24/10/17)
Poet Lemn Sissay's one person play Something Dark  tells the story of his upbringing in children's homes and foster care, and the search for his family and true identity. This gig at the Birmingham based Midland Arts Centre (MAC) was a full reading of the play script presented in dramatic style but not with the full theatre performance. In fact this was a very stripped-down presentation – just the poet under lights reading from a podium.
From the outset, Sissay seemed discomforted and was clearly knocked off his stride by what he thought was an intrusive air conditioning unit that he couldn't quite come to terms with. Once that had been turned off it transpired that the noise was in fact the result of the stage lighting and, with the heat building up, he was struggling with overheating – something he was happy to share with us in the Q&A session afterwards.
In doing a performance as emotionally charged as this was and which tells the terrible story of a young boy abused in care, brainwashed by evangelical fundamentalist Christians and engaged in an obsessive quest to find his real mother and father, some rough edges are not only authentic but necessary. I was glad the emotion was raw and that the reading wasn't slick and over-professional because that allowed space for the real man, in all his confusion, to come through.
Sissay knows how to perform and this dramatic ability is something he's upfront about because it was the creation of personas that helped him survive as a black young man in a very white and very northern Wigan. He's also a bundle of energy, coiling his body and face into extraordinary expressions that are both funny and challenging as he confronts the audience with his heart-breaking story.
The reading lasted about 70 minutes and following a ten minute break he was back on stage for half an hour of questions and answers. I thought this was even better than the play reading because he relaxed into a relationship with the audience and seemed happy to take on any questions people had. He prefaced this section with a rant about how badly we treat children in care and raised the interesting notion that, in truth, brilliantly resourced, excellently run children's care homes might, in some cases, be better for a child than shipping him or her into foster care. It is the nature of all families, he claims, that they are dysfunctional and moving a child from one family where things have gone wrong and into another with its own problems is just sending them from the frying pan into the fire.
A challenging but enjoyable evening – Sissay is certainly someone with a story to tell and radical ideas that need to be listened to.
Terry Potter
October 2017
(photo courtesy of Christina Hyland)