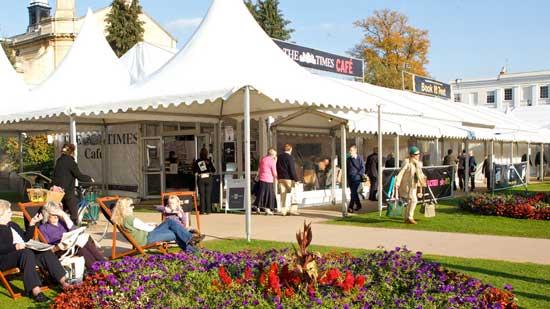 posted on 12 Oct 2015
Cheltenham Literary Festival : Where were the black faces?
I have just spent two weekends attending a number of events at the Cheltenham Literature Festival and I couldn't help but be struck by the absence of readers and book enthusiasts from black or minority group backgrounds. As soon as I became aware of the overwhelming whiteness of all of the crowds, I became almost obsessed with the lack of diversity and it made me start wondering why this was the case.
Cheltenham has a minority ethnic population that is below the UK average – almost 11% compared with a national average of 14%. So, a lower number but not so significantly low that it would account for the attendance levels I saw at this festival. Could it be that people from Black and Minority Ethnic (BAME) backgrounds are just less interested in books and literary events? That seems unlikely. What is indisputable is that they didn't see this as an environment they wanted to spend time in.
It has to be admitted that festivals like this are a pretty middle class affair (something that makes me as a working class man  uncomfortable too) and the tickets cost money to book -  but the prices are modest compared to an evening out at almost any other entertainment venue. It's unlikely in my view that it is cost that is causing this situation.
However, I do think the festival has the feel of a gathering of the white, middle-class clan and that this creates an almost overpowering sense of who this festival is for – and it's not black people. I'm sure the organisers would say with complete honesty that they would welcome people from all backgrounds and that they go out of their way not to discriminate - and I believe them. But that's not the same as understanding the kind of cultural messages that are being created and the way they act to exclude people from outside the white middle class mainstream.
It was not only the audience that was overwhelmingly white. The events were dominated by white writers and even the ancillary staff in the food halls, the book tents and the promotional stalls were predominantly white – finding a black face was like a Where's Wally search. All of this chimes uncomfortably with the recent report Writing the Future: Black and Asian Authors and Publishers in the UK Market Place produced by Spread The Word (http://www.spreadtheword.org.uk/resources/view/writing-the-future) .
 
Spread The Word were able to show that diversity in the publishing world was the exception rather than the rule:
 A survey of publishers and literary agents indicates that of the respondents over 74 percent of those employed by large publishing houses, and an alarming 97 per cent of agents, believe that the industry is only "a little diverse" or "not diverse at all."
This lack of diversity has also been noted by BAME authors who fear they are being marginalised or ghettoised by the expectation that they should produce certain types of post-colonial writing.
 
Maybe this is the problem. Could it be that there aren't black audiences because so few books that are being published that speak to them and so few writers booked for the festival seem remotely relevant?  A little while ago we broke the habit of a lifetime and went to the Hay festival - specifically to see Toni Morrison speak. For the first time  (and pretty much only time at any literary festival), we were among a genuinely ethnically diverse audience who had come to see someone who spoke to their issues and their identity.
 
Come on Cheltenham – get to grips with this. Let's have a focus on BAME literature next time. Not just a tokenistic affair either – think through the cultural issues and try and make a change.
 
 
Terry Potter
October 2015
( photograph : http://www.dailyglos.com/ )