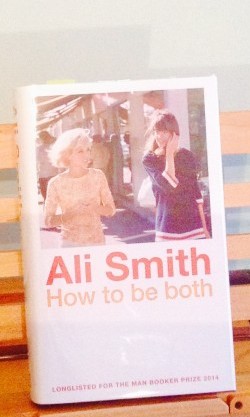 posted on 31 Jul 2015
How To Be Both by Ali Smith
Ali Smith's reputation as a novelist continues to grow. She is one of those rare writers who seems to be able to blend compelling story telling with innovation and popular acclaim. No small achievement. In her latest Booker short-listed publication, How To Be Both, she once again seeks to push the boundaries of what the novel can do.
Two narratives subsist here side by side although separated in time by hundreds of years. To achieve this sense of parallel lives outside of time, Smith divides her book into two halves - the book making sense whichever narrative you read first. To push home this message the book has been printed with some copies having the modern story first and some starting with the tale of a 15th century painter - the one you get being a matter of chance.
The modern story is told through the voice and point of view of George (Georgina), a sixteen year old whose mother has just died unexpectedly. In trying to come to terms with the loss George's narration roams between memory and immediacy, never escaping from the theme of observing and being observed. A child with no mother recalling Stephen Dedelus's search for a father. Disturbed and disturbing, George becomes easily obsessed with the idea of looking and surveillance.
One of her regular pilgrimages is to the National gallery to look at the portrait of Saint Vincent Ferrer painted by Francescho Del Cossa which was a favourite of her mothers and this triggers the second narrative as she brings into the novel the spirit of Del Cossa. Del Cossa's story is also the story of a girl child who has lost her mother and who is forced to adopt the identity of a boy/man in order to have a career as an artisan artist.
This book is not just about the way history gyres and twists iteslf into timeless loops but about alienation and about gender fluidity. George is mistaken for a boy from behind by the spirit of Del Cossa, she is insistant that her name is George and not Georgina and she flirts with lesbian infatuation. Francescho is a girl but dresses as a boy, she too has lesbian encounters - what does gender mean in these circumstances. If gender is a social construct what kind of society is constructing these modes of identity?
The book is full of important themes and thought-provoking ideas and, as always with Smith, beautifully written. But does it work? Is it true that it doesn't matter in which order the narratives are read? I don't really know and I don't see how I could ever know. I read the version with George's story first and I can only think of the book as in some way understood through that perspective - I interpret Francescho's story through the tale of George and her struggle to cope and I can't say how that would be different if I'd picked up the other version.I actually found it quite hard to make the transition from the first story to the second and the change in pace and style, entirely appropriate to the voices of the characters, was something I found hard to adapt to without the feeling of dislocation I get when I read themed short stories.
In the end I enjoyed the book because it was intelligent and substantial but I'm not sure it was completely successful - but I hope Smith keeps stretching the form and pushing the boundaries.
Terry Potter