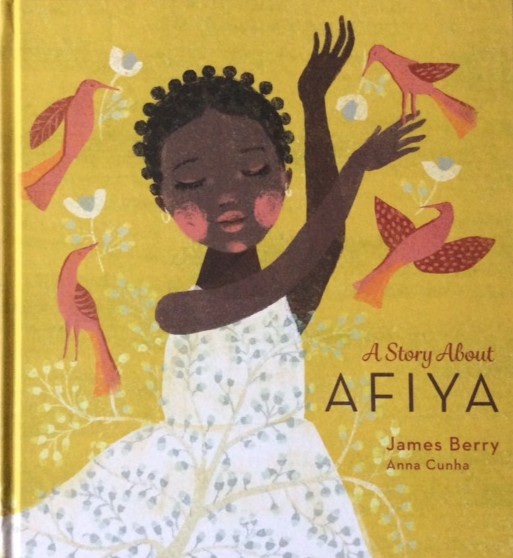 posted on 02 Oct 2020
A Story About Afiya by James Berry, illustrated by Anna Cunha
The eponymous character has a Swahili name which means ' health' and the beautifully told story describes how Afiya is full of curiosity and self -confidence as she explores her world. Although she only owns one white frock which she wears daily and washes every night, it magically imbues all the different natural patterns of sunflowers, red roses, butterflies and much more into the fabric. The rich colours and patterns remain after each wash but have mysteriously vanished by morning when the frock is ready for more impressions to be imprinted: 'hanging white as new paper'.
The detailed pictures show how the natural environment can have a lasting effect on how a child sees the world. Every double page spread is suffused with soft colour and minimal lyrical text. Myra Barrs, who is the partner of the author, describes this beautiful book as 'a wonderful weaving together of two imaginations'.
 Both author and illustrator manage to convey the vast skies and stunning landscapes of rural Jamaica:
'She goes to the seaside;
She comes home with fishes
Under ruffled waves
In the whole stretch of sea
Imprinted on her dress'.
Sometimes we look on at Afiya from a variety of angles, utterly absorbed in enjoying her play. She is always is command of her destiny with no adults in evidence whether she is surrounded by huge butterflies, a flock of pigeons or two tigers at her front and back.  Occasionally she looks out directly at the reader, a calm and contented expression on her rosy cheeked face. Despite all the excitement I would describe this book as having a very soothing atmosphere. I could almost hear the gentle buzz of insects and feel the warmth of the sun. The final pages show her soundly dreaming of the autumn leaves that she has seen that day as a beautiful tree grows on her bed. The facing page shows the white frock hanging in preparation for whatever might happen on the following day.
Apart from being an aesthetically pleasing experience, the over- riding message is that we need to slow down and to look closely at what is all around us. This is something that everyone can enjoy and learn from, even those with little material wealth like Afiya. The story captures what is described in curriculum terms as 'awe and wonder' which UK Early Years teachers like myself will know is something that is supposed to be measured and recorded whenever it is observed in young children in educational settings. I really like the way that this beautiful book effectively makes this idea ridiculous –every new experience is extraordinarily powerful:
'Always Afiya is amazed …'
 Karen Argent
October 2020
(Click on any image below to view them in a slide show format)