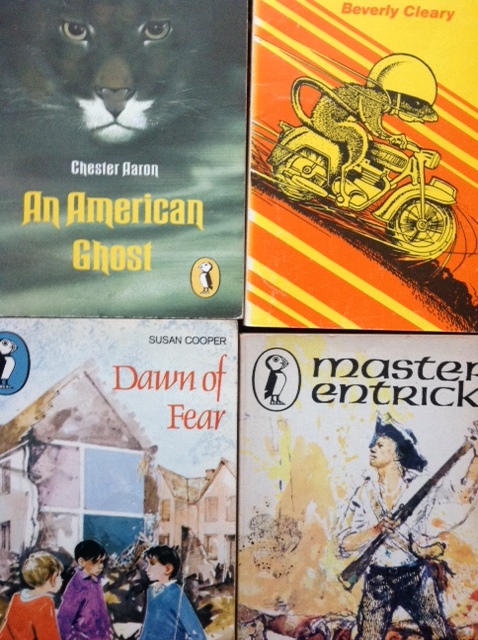 posted on 30 Aug 2020
Puffin and Panting – a collectors update
I'm a reader who is addicted to hardback books. I love the feel of them, the smell of them – I love their substance. For a long time now I've thought of hardback books as 'real' books, the best reading experience you could have, and I have relegated paperbacks to sorry runners-up in the whole literary experience.
Then, not too long ago, I found myself developing a sort of nostalgic fancy for vintage Penguin paperbacks – the cover art in particular. They were my introduction to reading all those years ago and I think I didn't give the design values behind these comparatively cheap works of art the sort of kudos they deserved. Now, looking at them again through older eyes, they had the power to whisk me back to those youthful, heady days when every new book was a discovery.
 And, of course, the fascination didn't stop there and I found myself looking for other 'pulp' editions where the cover illustrations were better than the books themselves.
I only discovered books as an older teenager and so I never had the experience of  accumulating beloved children's classics and in my younger days I didn't develop a love for the spin-off children's branch of the Penguin empire, Puffin Books. Puffin was established as an imprint just four years after the adult Penguin list was established in the 1930s but it was under Puffin's second editor, Kaye Webb that it had a golden period between 1961 and 1969. Some of the very best children's authors were added to the list and this was also a time when some of the classic cover artwork was added to the mix.
Back in 2017 I wrote a piece for this website extolling the virtues of the vintage Puffin books and so, naturally enough, I'm always on the lookout for this period of classic editions. But, it turns out, they are devilishly difficult to find. There seem to be plenty of copies of the old, vintage Penguins that can still be turned up in decent quantities and, although the price of these is now escalating rapidly, they can still be affordable if you look carefully and avoid high-end dealers. Accumulating a collection of early first edition Penguin titles isn't cheap but, with the odd stroke of luck, some stickability and a willingness to stump up the money, it can be done.
However, doing the same for vintage Puffin books is turning out to be a whole lot more difficult and I have been wondering why that might be.
I think there might be a couple of things going on here. Firstly, these are paperback books and so not necessarily the most robust when children decide to snap the spines, toss them across the room, cover them in food and water or decide to use them to build a fort. Ever seen a paperback mangled under foot?
Secondly, I wonder whether the curse of 'it's just a children's book' is at work here. While all sorts of junk-cum-antique dealers can get their heads around the idea that vintage Penguin books might have collectors looking for them, I wonder if they think that is also the case with children's Puffins? Maybe the difficulty in finding them is partly down to dealers not seeing their worth or thinking of them as having value?
In the end, whatever the reason for this paucity of Puffins, it leaves me in a position where I'm able to pick up three or four vintage Penguins for every decent vintage Puffin.
I've included some of the 1960s classics in the images at the end of this piece and I hope it convinces you that these are illustration masterpieces that are sadly undervalued. Whilst I want you to admire these little gems, I'd also like you to keep your hands off them and leave them for me to find.
Terry Potter
August 2020
(Click on any image to view them in a slide-show format)